Limavady 'Danny Boy' sign sparks council name row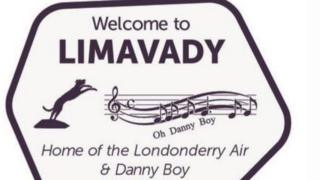 A row has erupted over the wording of a new sign to mark the County Londonderry birthplace of the famous Irish song Danny Boy.
The ballad's melody is taken from the Londonderry Air, christened by Jane Ross from Limavady 1851.
English barrister Fred Weatherly added the now famous lyrics to the ancient tune in the 1900s.
But some nationalist councillors have taken issue with the sign after it featured both incarnations of the song.
It shows an image of a leaping dog - in reference to the area's country park - part of the score from Danny Boy, and the apparently contentious title the Londonderry Air.
Sinn Féin and the SDLP voted against the wording, but it was passed by Causeway Coast and Glens Borough Council.
'Blast from the past'
The city of Londonderry is also called Derry - an Anglicisation of the historic Gaelic name Doire - by republicans and others.
The prefix of London was established in a Royal Charter granted by King James I in 1613.
Ulster Unionist councillor Darryl Wilson said the row was a blast from the past.
"The usual suspects decided to row back on their agreed position by entering into the tiresome 'Derry-Londonderry' debate," he said.
"Instead of welcoming signs that respected our two traditions and history, Sinn Féin are openly talking of signs being vandalised."
Danny Boy's musical roots may lie in Limavady, but the song has travelled far and wide.
From 1940s Hollywood musicals to the soundtrack of Barry McGuigan's greatest boxing triumphs, it has survived and flourished.
It has also been covered by singers as diverse as Derry-born composer Phil Coulter, country star Johnny Cash and rock 'n' roll's Elvis Presley.
'Particularly petty'
The SDLP's John Deighan took issue with the final design, saying there was "very little discussion" about the addition of the Londonderry Air.
"I'm not disputing anything in terms of Londonderry Air and who collated the music," he said.
"My issue was that there was not consensus amongst all parties that that was the signage decided."
The Democratic Unionist Party's James McCorkell described the debate as "particularly petty", and said Sinn Féin had changed its position on the signage.
"When it was suggested that the Londonderry Air be included it was in fact Sinn Féin councillor Brenda Chivers who encouraged its inclusion," he added.
"The SDLP and Sinn Féin's attitude on this subject has done nothing to build trust in an already divided council chamber."
A Sinn Féin spokesperson said councillors had only agreed on signage bearing the words: 'Limavady, home of Danny Boy'.
That, the party said, was "in an effort to promote Limavady to an ever-competitive tourism market".
"The decision by unionist councillors to move away from this agreed signage was a cheap political stunt, undermining efforts to put Limavady firmly on the tourist map."