Seamus Kelters: 'He loved the big story'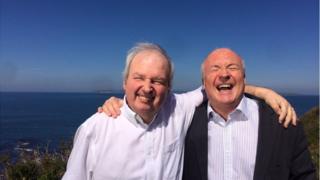 My phone pinged at just before seven on Saturday morning.
It was a message from Seamus - a message no doubt sent to that wide circle of friends who have been thinking about him and worrying about him and praying for him in his battle with cancer.
"I'm still fighting," he wrote... "hope all is well with you and please keep me in those prayers".
Those of us who had Seamus Kelters as a friend had someone very special in our company and in our lives; quietly brilliant - never looking for a stage on which to take a bow.
He was a story teller and a story maker, some times a singer, a man of words and knowledge, and he also told his stories in his photography - a tweet just a few days ago read: "Always heard a lot of berries indicate a hard winter to come - hope that's wrong."
We were all hoping and praying it was wrong. We knew he was in a fight.
He joined the BBC after his reporting days on the Irish News and, in his production role, I can still see him at many scenes, a walkie-talkie in one hand and a chocolate bar in the other.
He loved the big story - the big occasion - and, in his work, his diet was detail, plates of it and pots of it; the ingredients that made headlines and news.
Just last year, he oversaw BBC Newsline's coverage of the European Championships in France and that remarkable footballing journey of the Northern Ireland team and its supporters. He could turn his hand to anything.
"As a person he had the gift of friendship, forming relationships with many people who came to respect and trust him and to enjoy his company," a senior colleague said.
Seamus was one of the authors of Lost Lives, the book that in its words and on it pages remembers and records the dead of the conflict period; one of the tallest pillars of journalistic work that will forever stand in his memory.
David McKittrick, one of the co-authors, last night paid tribute to his enthusiasm and commitment to a work that was more than a decade in the making.
"Seamus was really the heart of our group," David said. "His phenomenal work rate and spirit and determination helping keep the project going through many difficult times."
He kept many other colleagues going through many difficult times. When we were worried, he worried - worried for us. He never put himself first; not in his work and not during his short illness and that battle he was fighting in recent weeks and months.
We got medical updates, but he spent more time thinking out and talking about the politics on the hill - what was happening and not happening.
'Shattering news'
Then my phone pinged again at just after five-thirty yesterday evening; a short message this time from my friend and colleague Mervyn Jess.
"Ring me. Urgent," it read.
It was the shattering news that Seamus had died, and Mervyn with other BBC colleagues were on their way to his home.
On their way to see his wife, Camilla.
At times like this, we remember a journalist colleague but, for Seamus, family was always first - Camilla and his sons Brendan and Michael.
He told me some weeks ago that he was scared - not scared for himself, but for his wife and his boys. Scared of leaving them. They had done so much together, but there was so much more he wanted to do with them.
'Just a gentleman'
Ken Reid, the UTV political editor, called me last night after he had heard the news.
He recalled a trip to Washington with Seamus. "I didn't stop laughing," he said.
Seamus was great company - "professional, a very caring person, just a gentleman," Ken Reid said.
He was all of those things and so much more; a great colleague, a great friend - someone we will cry tears for; someone who will be missed for his company and his craic and for his words and his wisdom.