Castlereagh Special Branch break-in claim rejected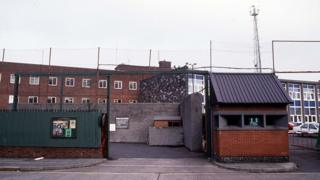 A claim by an ex-RUC officer that the IRA was allowed to break into Special Branch offices in Castlereagh to protect an informer, has been rejected.
The Ombudsman said there was no evidence to support the claim.
The IRA raid of the police station in east Belfast on St Patrick's Day 2002, was one of the most embarrassing security breaches of the Troubles.
A former officer told the Police Ombudsman the PSNI knew about the IRA's plans in advance.
They claimed they could have prevented the break-in, but chose not to.
The report said investigators interviewed former senior special branch officers and conducted a detailed review of police files.
These included intelligence records covering a two-year period before the break-in, as well as records from the police investigation into the burglary.
'Highly-sensitive documents'
"They found no evidence that police had any advance information which would have allowed them to prevent or disrupt the raid," said the Ombudsman, Dr Michael Maguire.
"In fact, they discovered that police had initially considered the possibility that elements of the military or security community had been responsible."
The IRA stole dozens of highly-sensitive documents, including a list of Special Branch officers, along with contact details and code names of paramilitary agents and their handlers.
Dozens of police officers had to move house after being warned their personal security had been compromised.
No-one was ever convicted of involvement in the raid, and none of the stolen documents have ever been recovered.
A number of former police officers sued the chief constable for negligence and breach of statutory duty.
'Security threat'
In 2015 PSNI Chief Constable George Hamilton asked the ombudsman to investigate claims that the break-in had been allowed to happen to protect an informer within the IRA and for broader political reasons.
The Ombudsman has said the claims were unfounded.
"There was nothing to suggest that police had received any specific information that would have allowed them to prevent or disrupt the burglary," Dr Michael Maguire said.
"In fact everything suggests that that was not the case.
"The only information of a possible security threat that we found in police records was general and non-specific in nature, and offered nothing which would have allowed police to take preventative measures."