William Anderson 'set up bogus events beyond NI'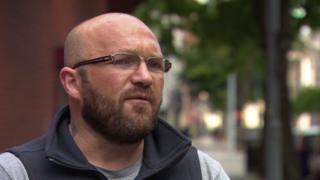 A Belfast man who set up fake running events in Northern Ireland is now organising bogus events in other UK cities, BBC News NI can reveal.
In a repeat of what happened in NI, people in Scotland paid for events that did not take place.
Runners in Edinburgh claim they have been duped by William Anderson.
He is accused of encouraging charities to sign up to his fake events. In response, Mr Anderson said: "Some businesses are a success. Others fail."
He then hung up.
In 2015, Mr Anderson organised a number of runs in Northern Ireland including three at Crawfordsburn Country Park in County Down that did not take place.
In spite of assurances that customers would be reimbursed, some are still owed money.
It has now emerged that since the fake County Down events, Mr Anderson has been promoting bogus sports events in other UK cities.
He has also recently advertised a series of "Fitness Expos" at cities across the UK that did not - or will not - be taking place.
Mr Anderson has also been promoting running events that did not happen.
A fun run organised by Mr Anderson called "She Runs The Night" for Edinburgh's Holyrood Park last month failed to materialise. A website sold tickets costing £23 each for runners to enter.
In an effort to boost entries, Edinburgh charities, such as "The Link Up" women's support group, were contacted by Mr Anderson and encouraged to take part.
"The charities involved were first approached, saw what appeared to be a bona fide event, gathered support, wanted to take part, raise money, boost the charity and when it turns out not to be a bona fide event, it is damaging," said Laura Plumb from the charity.
"When we found out it was a scam, it was damaging to us, in that it was a knock to our confidence.
"There is something about being taken advantage of that makes you feel a little bit of shame, even though we were entirely blameless," she said.
Mother-of-four Gillian Drummond from Penicuik near Edinburgh paid for three running events last year that did not happen.
She managed to claim some money back from her credit card company, but not from the Belfast-based organiser William Anderson.
"I think I've been conned. Plain and simple," she said.
"I have just been conned. He pocketed the money and sent us to our credit cards. So the credit cards are having to foot the bill and that's not right. He'll be living it up in luxury somewhere on our money. "
In recent weeks, Mr Anderson has also been advertising trade shows or what he calls "Fitness Expo" events at various sporting venues across the UK and Ireland.
A website offered tickets and exhibition spaces costing from between £20 to £500 for locations in Edinburgh, Cardiff, Dublin and London. But none of the venues he named did or will be hosting his events, according to spokespersons at the various venues.
Staff at SportsDock at the University of East London (UEL), where Mr Anderson claimed one of his events will be taking place this weekend, confirmed the event had not been booked.
A spokesperson at the UEL said: "We do not have any affiliation with the organisers, nor are they known to us. We have completed an online action fraud form with the police to inform them of the situation."
After the failed Northern Ireland runs in Crawfordsburn Country park in 2015, runners who had signed up to them were promised a refund by Mr Anderson.
In spite of the undertaking, John O' Doherty from Belfast's Rainbow Project charity, who spent £222 on entries, got nothing back.
"Not one penny. The fact is that the event that we registered for had never been planned, had never been booked and was never intended to go ahead," he said.
As well as the bogus runs, Mr Anderson organised a half marathon in Belfast's Titanic Quarter in December 2014. That event did take place.
However, runners complained that it was poorly organised, the course was too short and some could not find the starting line. After complaints, organiser William Anderson refused to give any refunds, and accused some of the runners of "threatening behaviour".
We traced Mr Anderson to his last three known addresses in County Down.
At each one, we were told he no longer lived there and that he had left all three owing rent. Earlier this year William Anderson was given a conditional discharge after he was found guilty of fraud after he bounced cheques to a value of £2,500.
Mr Anderson declined to be interviewed. Asked in a brief phone call about the events he has been organising, he said: "Some businesses are a success. Others fail."
When asked him if he had deliberately misled people, or taken their money by advertising fake events online that were never intended to take place, he hung up.