Newtownabbey man jailed for knife attack on ex-partner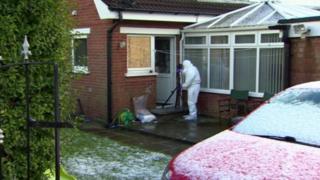 A Newtownabbey man who stabbed his ex-partner 30 times in front of their three-year-old daughter has been jailed for over seven years.
Stephen David John McFarlane, 34, from Glenville Park, was convicted of attempting to murder the 28-year-old mother of two.
The victim was left with life-changing injuries.
McFarlane went on the run for two days after the "brutal and sustained" knife attack on 13 January 2016.
The judge sentenced him to 15 years, with at least seven-and-a-half years to be served before he will be considered for release. McFarlane was also given an extended five years on licence, in a bid to protect the public.
Belfast Crown Court heard that when police arrived at the victim's Carnmoney home after receiving a 999 call from a screaming woman, they found her lying in a pool of blood in the living room
A crying toddler in the room told the officers: "Bad daddy."
The seriously-injured woman was rushed to hospital where she was treated for 30 stab wounds to her head, chest, abdomen, neck and back.
She suffered collapsed lungs and an injury to her spinal cord.
The judge spoke of the physical and psychological impact the attack had had on the victim, who had to learn to walk again and suffers from flashbacks.
"There can be no doubt the the consequences for her have been life changing," he said.
McFarlane was arrested two days after the attack following a high-speed chase that ended in a cul-de-sac in east Belfast.
While he had initially claimed he could not remember what happened, and told officers to "come to me with evidence", he also at one stage said: "It must have been me... if I have done this, I am a monster."
McFarlane subsequently admitted a number of offences including attempting to murder his former partner, damaging her property, stealing petrol and driving dangerously while on the run.
The court also heard that the accused was using steroids at the time and had already served a sentence for strangling and assaulting a former girlfriend.
The judge said McFarlane was a selfish, self-centred man who had displayed no remorse for his actions.
As he was led from the dock in handcuffs, McFarlane turned to the woman's family in the public gallery and said: "I want to apologise for what I did, but at the end of the day I got stopped from seeing my children, but I am sorry."
A previous court hearing heard that the victim had previously experienced violence by McFarlane.
A month before trying to murder his former partner, he had gone to her home and thrown a brick through the window before refusing to leave.
'Begged him to stop'
Two days later, she returned home to find him sitting in her living room brandishing a large knife. He again refused to leave.
He was arrested on both occasions.
On the night of the knife attack, police arrived at the victim's home where it was apparent someone had forced their way in because of a damaged back door.
Officers found the victim seriously injured and with extensive blood loss.
When she was well enough to speak to police, the victim said McFarlane had smashed his way into her home and said: "I just want to ask you something because I am going to jail for life. Are you with someone?"
'Emotional instability'
The victim then said McFarlane ran at her and began stabbing her. She begged him to stop but he continued without speaking.
A prosecutor told the court: "When she fell to the ground, he continued stabbing her. She could hear her daughter screaming.
"She heard the accused leave, but she couldn't move. Her young daughter tried to comfort her. She didn't think she would survive, and told her daughter she loved her."
McFarlane's defence lawyer said he suffered a period of "emotional instability" after his relationship with the victim broke down.
He added that McFarlane deeply regretted his behaviour and was having difficulty with coming to terms with the fact the attack happened in front of his youngest daughter.
Sending McFarlane to prison, the judge said there were "undoubtedly issues that need to be addressed", such as anger management, and expressed the hope that whilst in custody McFarlane would gain "some insight in to your offending and address its underlying issues".