Strangford Sailing Club destroyed by fire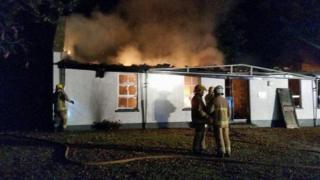 A sailing club in County Down has pledged to get back up and running after its clubhouse was destroyed by fire.
The blaze at Strangford Sailing Club was reported at 21:25 BST on Tuesday.
The Northern Ireland Fire Service said the fire was "probably accidental".
Firefighters had to take water from Strangford Lough, but the tide was out so a number of hoses were joined together to draw the water to their appliance.
The secretary of the club, Jane McMeekin, said the club's sailing equipment is kept separately from the building and no boats were damaged.
However, a kitchen, changing rooms and furniture were lost.
"From a bricks and mortar perspective we haven't lost anything that can't be replaced, but what we have lost is all the memorabilia, the pictures... trophies, things like that have all been lost and they are irreparable," Jane said.
"Our building is on the land of the National Trust so we would have to work in tandem with them saying how the building would be rebuilt, but we would envisage that it would be rebuilt and the club would get up and running as fast as it can."