DUP politicians leave health meeting over safety fears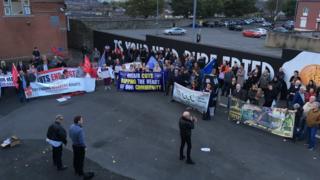 Arlene Foster has said it is "disgraceful" DUP members were heckled at a public meeting in Londonderry and had to leave amid safety concerns.
The Western Trust held the event at the city's Verbal Arts Centre on Tuesday in an effort to consult the public on proposed cuts to the health service.
About 100 people, including trade unionists, had gathered in protest.
Foyle MLA Gary Middleton said he and councillor Hilary McClintock were "intimidated and heckled".
"A significant number of those in attendance turned on myself and my colleague and basically heckled us and shouted us down," he said.
"It was to the point where we were encouraged to leave the meeting which we did so by an emergency exit."
Mr Middleton said the level of "aggression" was unacceptable.
Dr Anne Kilgallen, chief executive of the Western Trust, was also heckled as she attempted to give the opening presentation.
"People feel very strongly about the proposals that we're consulting on, they are very exercised," she said.
"They (the cuts) are not a done deal, we have a document which contains proposals and those are merely proposals."
SDLP MLA Mark H Durkan, who was also at the meeting, said some behaviour crossed the line.
"The conduct of some people who should really know better, left a lot to be desired," he said.
"Trust staff were shouted down and verbally abused.
"It was intimidating and unacceptable and that extends to how people rounded on Gary Middleton and Hilary McClintock."
The meeting, held to consult the public on proposed cuts to the health service, continued after the disruption.
Margaret Ashford has family living in William Street care home in Derry, one of those under threat of closure.
"There's the psychological effect of being moved from one place to another, it's very unfair," she said.
"All those residents are sitting six weeks waiting, it's mental torture.
"It's been hell for them and you can see them start to deteriorate."
Ms Ashford added that she did not think the DUP were targeted in the meeting.
A spokesperson for the trust said there was disruption in the early part of the evening but they were grateful to those who stayed to engage with the process.
Strabane
Meanwhile on Wednesday, about 20 people staged a protest outside a public meeting in Strabane on health cuts in the Western Trust area.
They held placards proclaiming "Save Our Health Service" and "Death by 12.5 million cuts".
The Western Trust says it has to make savings of £12.5m as part of £70m of financial cutbacks across the health service.
The protesters also stuck signs to the windows of the Fir Trees Hotel.
About 60 people, including local politicians, took part in the public consultation inside.
The protesters said they were boycotting the meeting and described it as "a sham".