Trump will not eliminate NI special envoy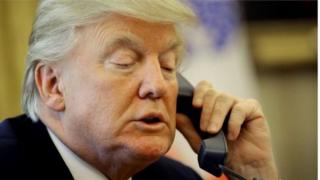 Donald Trump will fill the position of special envoy to Northern Ireland, a Democratic Congressman has said.
Secretary of State Rex Tillerson previously said he would eliminate international special envoys.
But Congressman Richard Neal urged the president to reconsider, during a meeting on Tuesday.
He cited concerns over Brexit and the breakdown of Stormont, and said it was "critical" the United States had a dedicated representative in the region.
'Peace process'
"I told President Trump that eliminating the position of special envoy would send a message around the world that the United States is no longer engaged in the region," he said.
"As we approach the 20th Anniversary of the Good Friday Agreement, America must continue to play a meaningful role in the peace process."
Congressman Neal tweeted to say President Trump had "promised" not to eliminate the Northern Ireland special envoy during their meeting.