Cash for refugee schoolchildren not received by schools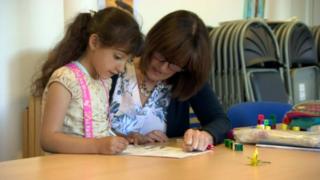 Northern Ireland has not received any of the money needed to educate Syrian refugee children for more than a year.
The Syrian Vulnerable Persons Relocation Scheme (SVPRS) was established by the UK government to support refugees.
As part of the scheme, £4,500 was to be provided towards each Syrian child's education costs for one year.
But the Department of Education (DE) told the BBC no such money has been received by them since August 2016.
Of the 632 Syrian refugees who have settled in Northern Ireland since December 2015, 245 are school-aged children.
Dr Seamus Quinn is the principal of St Patrick's in Lisburn, which has five Syrian pupils.
He said some of the children had been in refugee camps for five years and had arrived in Northern Ireland illiterate in Arabic and with no knowledge of the English language.
"I don't know who's responsible, I don't know who should be doing that, but if the money was promised surely it should be provided to educate the children," he said.
Frank Maskey is the principal of Corpus Christi College in west Belfast, which has 30 Syrian refugees as pupils.
"We need to find out who is responsible and we also need to find out why it happened and how it happened," he said.
"But most importantly, we need to get that money and get that money into the system so we can get the best support possible to those children who deserve it."
DE did not give a reason why there had been no education funding through SVPRS for Syrian pupils settled here since August 2016.
DE said that the funding arrangements for Northern Ireland for the scheme were governed by a memorandum of understanding between the Home Office and the Executive Office.
They said that the memorandum of understanding was being revised, and that payments for 2017/18 would be made following final agreement on that.
However, they did not specify when that would be.