Nama property deal: Eight being investigated, NCA says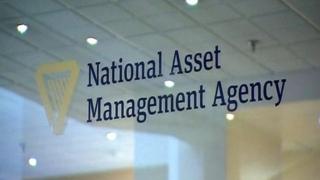 Eight people are now under criminal investigation in connection with the £1.2bn sale of Nama's Northern Ireland property portfolio, the agency leading the inquiry has revealed.
Nama, the Irish state asset agency, sold the loan portfolio to a US investment fund in 2014.
The National Crime Agency took over the investigation into fraud, bribery and corruption allegations in July 2015.
It said more than 60 witnesses had now been questioned.
Three people have been arrested and hundred of thousands of documents have been seized.
Witness statements
Details of the investigation were revealed in an interview with the BBC by the director of the NCA, Lynne Owens, during a visit to Belfast.
"We have eight potential suspects under investigation, seven of them have already been interviewed," she said.
"We have taken 61 witness statements. We have applied for six court production orders and there is another one in train.
"We have made three international letters of request to the Isle of Man and the Republic of Ireland because this is an international investigation."
The director general said those letters were seeking "any intelligence or evidence to prove or disprove allegations of bribery, fraud etc".
The agency is in regular contact with the Public Prosecution Service, but said it cannot comment at this stage on whether it has uncovered evidence of criminal activity.
Thousands of pieces of paper
It was revealed in court proceedings earlier this year that the NCA told a businessman linked to the Nama investigation that it hoped to complete it by June.
But that did not happen and Ms Owens said it was impossible to put a definitive timescale on the investigation.
"We have seized hundreds of thousands of pieces of paper and bits of information that now need to be fully examined," she said.
"We follow the evidence wherever it takes us. This is an investigation that covers a seven year period with vast quantities of material recovered, some of that requires forensic accountant work to be done on it, and those things take time.
"We are doing everything as thoroughly as we possibly can and we will get to the stage where we do put a file to the Public Prosecution Service to consider."