Brexit: Irish Labour leader Brendan Howlin wants new vote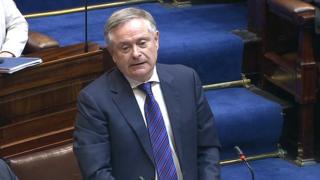 The leader of the Irish Labour Party has said there should be a second referendum on the detail of a Brexit deal.
Brendan Howlin said it was a reasonable suggestion to have a vote on the final package, otherwise voters would be buying "a pig in a poke".
He was speaking at the UK Labour Party's Ulster Fry event in Brighton.
The fringe event is organised annually by the group Champ and was dominated by talk about Brexit and Northern Ireland.
The breakfast gathering at a seafront hotel was attended by Labour activists and MPs, Sinn Féin MP Paul Maskey and Mr Howlin.
Mr Howlin said a vote on the Brexit deal should take place, saying he thought that was "reasonable".
He said: "It is an exercise in democracy that, rather than to make a decision and then have a negotiation so you are in essence buying a pig in a poke, that you conclude the negotiations, you know the shape of the future, and then you ask: 'Is that what you want?'"
The issue of whether Northern Ireland should have some form of special status in the final Brexit deal was raised.
It followed remarks from Owen Smith, the shadow Northern Ireland secretary, who said the government must consider a post-Brexit solution where Northern Ireland retains some form of membership of the single market and the customs union.
He said such a move would be an 'imaginative solution'.
Mr Smith's comments were seen by many as a significant development in Labour policy.
Inside the conference arena, the Bangor-educated comedian and Labour activist Eddie Izzard was a target for autograph hunters and those who wanted selfies.
He said he thought that in any final Brexit deal Northern Ireland should have special status.
"The single market is so necessary and so is the customs union," he told BBC News NI.
The performer wants to change his career and has plans to become a Labour MP.
He campaigned for a remain vote in last year's referendum and said he felt the decision to leave the EU was "crazy".
Potato bread
West Belfast MP Paul Maskey said he welcomed Labour's call for a customs union and a single market as part of the overall plan for Northern Ireland.
He said there was a political demand for special EU status.
"I think we need to get to a position where we are all speaking with one voice," said Mr Maskey.
At this year's breakfast event, potato bread was flown in from Northern Ireland for the first time.
However, it may not have been to everyone's liking - as it was served cold rather than cooked.