Colwell Inquest: Policewoman 'did not hear warning'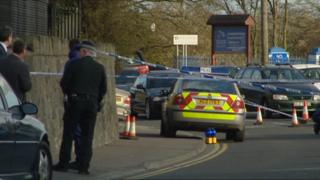 A police officer has been describing the moments leading up to the fatal shooting of the driver of a stolen car.
Steven Colwell, 23, originally from the Shankill area of Belfast, was shot dead by police on 16 April 2006.
He failed to stop at a checkpoint in Ballynahinch, County Down.
Four young men and two young women were in the silver BMW, which had been stolen earlier that morning during a burglary in Downpatrick.
At the inquest on Tuesday, the officer, known as officer Q, explained how she and two other officers had set up a checkpoint outside Ballynahinch police station following reports that a stolen BMW was heading in that direction.
Officer Q said she was acting as look-out on a footpath.
She was monitoring a line of slow-moving vehicles approaching the checkpoint when she spotted the stolen car some three car lengths away.
She said that she shouted: "Oh my God, it's it!" Almost immediately, the BMW tried to manoeuvre to get away.
The policewoman said she could not remember if one of the other officers - known as Officer O - came running with his gun in his hand.
She described the noise of wheels spinning, an engine revving and the sound of a collision as the car tried to escape.
She told the inquest that she saw Officer O standing in front of the BMW with his gun drawn shouting: "Stop! Get out of the car!"
The other officer was also shouting for the occupants to get out.
The policewoman said she did not hear any verbal warning from Officer O that he was going to fire.
The inquest continues.