South Armagh: Racists leave Forkhill mother 'scarred'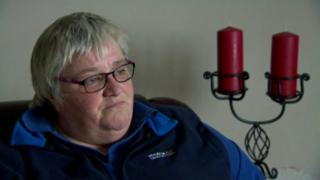 A south Armagh mother has said she is "scarred for life" after racists scrawled graffiti at her family home.
Briege Roe discovered racist abuse sprayed on the garden wall of her home at Tievecrom Road, Forkhill, on Sunday morning.
She believes the graffiti was targeted at her son, Patrick, a young actor, who has been bullied in the past.
Police are treating the incident as a hate crime.
Patrick, 14, had a part in the film, A Christmas Star, with Suranne Jones, Pierce Brosnan and Liam Neeson.
His mother was shocked when she discovered the words sprayed on two white walls at the bottom of her driveway.
"It's an attack on my son," she said.
"I actually had to hold on to the wall, I just couldn't breathe, I felt like someone put a knife through my heart," she said.
"I stood there for a good 20 to 30 minutes before I knew what to do or where to go and then I rang the police.
"I can't believe it, you see it on the news, and in the papers but you never see it coming to your own doorstep."
Her son could not bring himself to look at the graffiti but is determined not to let the racists get his family down.
"At primary school he got a hard time with words, but unfortunately children don't learn the words, it's spread from their parents," Briege said.
"I wish the ground would have just taken me away."
It is believed the graffiti was sprayed sometime between 20:00 BST on Saturday and 07.30 BST on Sunday.
The PSNI have appealed for information.