People in Northern Ireland's rural areas 'are happier'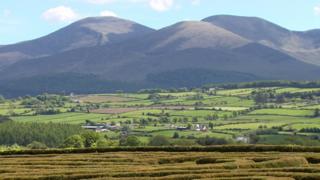 People in rural areas of Northern Ireland are happier and live longer on average than those living in towns and cities, new government statistics show.
Rural-dwellers also have more disposable income and better educational attainment, according to the figures.
But they pay more on average for their houses and have a longer commute.
The statistics are in figures published by the Department of Agriculture, Environment and Rural Affairs.
They give an urban/rural breakdown across a range of areas.
About 670,000 people live in rural areas of Northern Ireland, some 37% of the population.
Their median weekly income is £409, compared with £373 for those living in urban areas.
On average, both men and women living in rural Northern Ireland live two years longer than their urban counterparts.
Some 60% of rural-dwellers leave school with two or more A-levels, compared with 56% in urban areas.
More of them of working age have jobs, at 75% compared with 72% in towns and cities.
But the average house price in rural areas more than an hour from Belfast is just over £145,000.
In the big urban centres, the average price is about £119,500.
People in the countryside commute about 1,400 miles a year, compared with just over 1,080 miles for those in urban areas.