Viable device found during west Belfast alert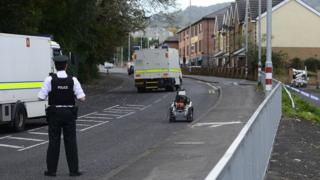 A bomb has been found during a security alert in west Belfast.
The alert, at Horn Drive, began after the device was discovered by a member of the public on Monday afternoon.
A number of residents were moved from their homes while the device was examined.
Police have described it as a viable device and said it would be sent for forensic examination. The alert is now over.
"Those responsible have shown a complete disregard for the safety of residents in this community," a police spokesperson said.
Horn Drive is located between Suffolk Road and Lenadoon Avenue in west Belfast.