Department of Education faces £105m cash pressures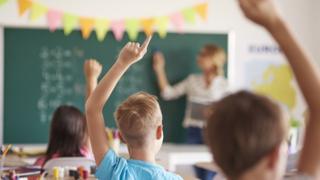 The Department of Education in Northern Ireland is facing £105m of cash pressures in 2017/18.
The figure was revealed by Derek Baker, the department's permanent secretary and the man in charge of the department in the absence of a minister.
Mr Baker said that the department had £24m less in cash than last year, but rising costs meant pressures of £105m.
He said the funding pressure was mainly due to rising pay, special educational needs and maintenance costs.
He was speaking to school principals and MLAs at Stormont at an event organised by the National Association of Head Teachers (NAHT).
"It is a very difficult space that I'm in financially," Mr Baker said.
Northern Ireland has effectively been without a devolved government since January.
Its institutions collapsed amid a bitter row between the DUP and Sinn Féin about a botched green energy scheme.
Several rounds of talks have failed to reach an agreement.
'Spent every penny'
Mr Baker also said that he would "love a minister to be there to do some of the heavy lifting".
To illustrate the extent of the pressures, Mr Baker said that even if he closed the Department of Education, the whole youth service and Sure Start: "I'd still be shy of £105m."
"This shows the scale of the pressure we are trying to cope with," he said.
Mr Baker said that the department had spent "every penny" of its £1.9bn budget in 2016/17.
He said that the only way the department could get more money was through monitoring rounds or the "confidence and supply" funding agreement between the DUP and Conservative party.
However, on the latter, he said he had no certainty on when, or how much, money would come.
Mr Baker also said he could not legislate on major changes as that was the role of an assembly.
NAHT president Paul McClenaghan said there was not enough money in the education budget.
He also said that not enough of education funding was getting to schools directly.
"We feel we are in the midst of a perfect storm," he said.
"You can't pay the teacher's salary from the amount we get per pupil.
"We're very concerned that many of our schools will go to the wall."