Belfast: Buses may be withdrawn after 'reckless' attacks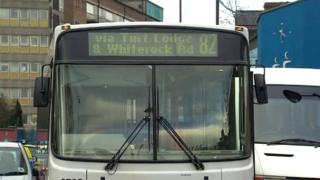 Metro bus drivers have threatened to withdraw services in a part of west Belfast following weekend attacks.
Buses were attacked on Saturday night as they passed Falls Park, off the Falls Road, the scene of anti-social behaviour in recent weeks.
A baby in a pram was covered with glass from a broken window during one attack, according to the Unite union.
The police said that two buses and a taxi were targeted on Saturday night.
Michael Dornan from Unite said a driver had to take time off after a brick was thrown through his windscreen.
'Reckless and indiscriminate attacks'
"He had passengers on board, was driving at the normal speed, around 30 miles per hour, and had that brick hit him and had he lost control or been injured as he was driving that bus, there could have been serious injury or even worse," Mr Dornan said.
The union's Jackie Pollock said: "These reckless and indiscriminate attacks could have caused serious injury to drivers or to passengers and should be condemned by the whole community.
"One of our drivers was severely traumatised and was unable to continue work whilst one of the other attacks could have led to a young baby being blinded or worse.
"Our drivers are now seeking assurances from community representatives that these attacks will be stopped or else they will be forced to divert and then withdraw services from these areas."
Two arrests
In a post about Saturday night's trouble on its west Belfast Facebook page, police said a large crowd initially gathered at about 18:40 BST before being moved on.
"Between 9:15pm and 9:30pm the crowd returned and we received reports of criminal damage to three vehicles travelling along the Falls Road.
"Two buses had windows damaged by stones being thrown at them and a taxi was also damaged when a brick was thrown at it.
"Two 15-year-old males were arrested for riotous assembly."
A Translink spokesperson said: "The safety of our customers and staff is our top priority and we strongly condemn all instances of anti-social behaviour.
"We will continue to work with local community representatives and the PSNI to address this serious issue."