Colwell Inquest: Policeman 'did not see colleague fire shots'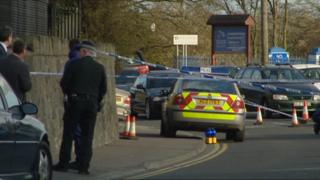 A policeman has told an inquest that he did not see another officer fire the shots that killed the driver of a stolen car.
Steven Colwell, 23, originally from the Shankill area of Belfast, was shot dead by police on 16 April 2006.
He failed to stop at a checkpoint in Ballynahinch, County Down.
Four young men and two young women were in the silver BMW, which had been stolen earlier that morning during a burglary in Downpatrick.
At the inquest on Monday, under cross examination by a lawyer for the victim's family, the officer said he heard two shots.
However, he said he did not know where they had come from as he was being pulled along by the door handle of the stolen car.
The man who was referred to as Officer P, gave his evidence from behind a curtain as he had been granted anonymity.
He said he had to jump out of the way of the stolen car before it then drove forward in the direction of another police officer.
He said he raised his sub machine gun, but did not use it. Then, the shots were fired by the other officer.
The lawyer representing the Colwell family asked if he and the other two police officers had acted without justification.
"I couldn't disagree more," he replied. "I had a duty to protect the public, myself and my colleagues."
Officer P was also asked if he was protecting the officer who fired the shots. He denied that.
He said that during the incident, the stolen car was reviving its engine loudly.
He said that he did not hear anyone shout: "Armed police, get out or I will shoot."
The inquest continues