Eamon Bradley: Jury fails to reach verdict on terror accused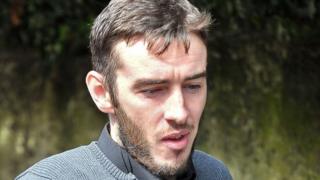 A jury has failed to reach a definitive verdict in the case of a Londonderry man accused of terrorism offences in Syria.
Eamon Bradley, 28, of Benview Estate in Coshquin, denied three charges.
They include attending a training camp in Syria and receiving weapons training three years ago.
His trial was told that he admitted travelling to Syria in February 2014, had taken part in battles and was "proud" of what he had done.
The jury also heard that he could dismantle and rebuild an AK47 assault rifle. However, he told the court he had not fired the weapon.
It is the second time that Mr Bradley's trial has ended with a hung jury.
At the end of his first trial in February, the Crown Court jury in Derry acquitted him of possessing explosives.
'No prospect'
However, the jury was hung on the more substantive charges of attending terrorist training camps in Syria and receiving instruction in the use of weapons and explosives.
On Tuesday, after an 11-day trial over five weeks in Omagh, another jury spent almost three hours in deliberation.
Afterwards, they told Judge Brian Sherrard that even if they were granted further time, there was no prospect that they would reach a verdict on which at least ten of them were agreed.
The first indication of a possible split in the ranks of the jury of six men and five women came just 10 minutes after they were asked to retire and begin deliberations on Monday.
In a note sent into court regarding clarification on some of the evidence, the jury also inquired if they had to bring in verdicts on which they were "unanimous".
Adjourned
As was the case with Mr Bradley's last trial, it was left to the prosecutor to ask that proceedings be adjourned for a week when the case will be "mentioned again".
The "bedrock" of the prosecution case was that Mr Bradley's alleged confessions during eight interviews in which he told detectives of joining Syrian rebels opposed to President Bashar Assad and Islamic State, were true.
However, his defence claim that alleged admissions by Mr Bradley are unreliable, given that he is unsure of the correct spelling of his own first name and has difficulty in remembering his date of birth.
The defence contends that far from being a Muslim fundamentalist, Mr Bradley's only crime is that of being an attention-seeking fantasist.