NI weekly papers: Rowdy priests and clever birds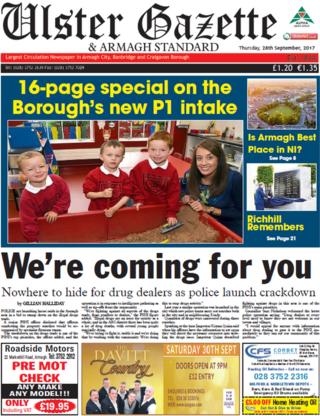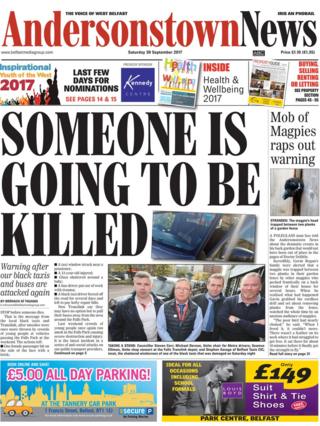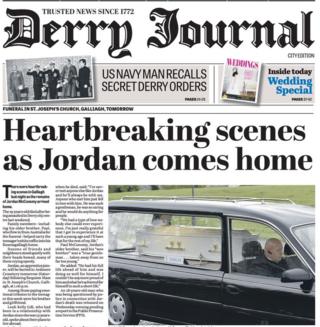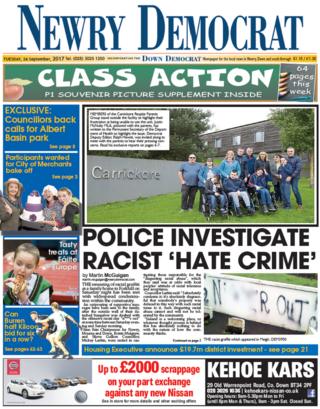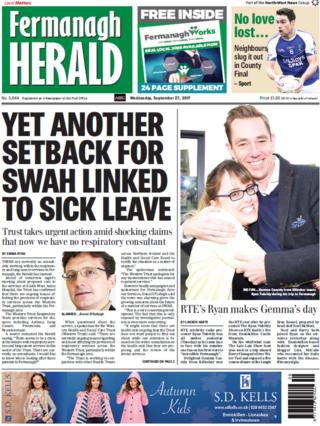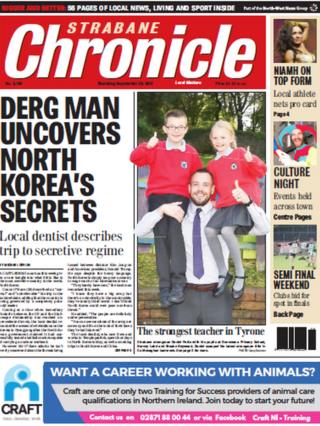 The war on drugs, a very clever magpie rescue and a rowdy contest between priests and pop stars all feature in this week's local papers.
"We're coming for you," is the ominous headline in this week's Ulster Gazette.
Police are carrying out house raids in Armagh as part of a new crackdown on drug dealers, according to the paper.
An unnamed senior police officer says the operation is in response to several drug-related deaths in the Armagh, Banbridge and Craigavon Council area.
Inside, the Gazette features a striking aerial picture of Armagh city centre and asks whether it is the best place in Northern Ireland.
The city has been shortlisted for the title in a competition run by the Royal Town Planning Institute NI.
Shattered
However, Armagh's Georgian charm faces stiff competition from nine other sites including the Giant's Causeway, Lough Erne, and Belfast's Cathedral Quarter.
In west Belfast, the Andersonstown News leads with the claim that lives are being put at risk by ongoing attacks on buses and taxis near Falls Park.
A taxi passenger was hit on the head with a brick in one incident, and glass from a bus window shattered around a baby's pram in another.
Sinn Féin councillor Stephen Corr tells the paper he fears that someone is going to be killed if the attacks continue.
He also claims some parents are fuelling anti-social behaviour by delivering alcohol to youths in the park.
Birds of a feather
Elsewhere on its front page, it reports on a magpie rescue which the paper says would not be out of place in Doctor Dolittle.
A family claims a group of magpies spent several hours pecking on a window at their Poleglass home, to alert them to a magpie which was trapped in their fence.
When Gavin Rogan went out to investigate the relentless pecking, he was shocked to find the unfortunate magpie with its head stuck fast between two fence posts.
"The poor bird had nearly choked," Mr Rogan said. "There wasn't a feather on its neck where it had struggled to get free."
He needed a drill to remove the fence posts but managed to release the captive.
The paper marvels at how the birds worked together to get human help and proclaims magpies are "smarter than every other species of bird".
'Surreal'
This week's Strabane Chronicle is more concerned with global security, and leads with an unexpected local angle on North Korea's nuclear ambitions.
The paper speaks to Castlederg dentist Conor O'Hare, who happened to be visiting the secretive state in May during its first successful missile test.
The launch sparked international alarm, but Mr O'Hare says he witnessed people "celebrating in the streets", and calls the whole experience "surreal".
The paper also speaks to the Priests, an operatic trio who were once mistaken for an American punk band, but now claim to be more raucous than The Killers.
Fr Martin O'Hagan recalls how they once shared a green room with the indie rockers when they appeared together on the Jonathan Ross Show.
"Honestly, we were more rowdy in the green-room than they were," Fr Martin says.
"But I had the shock of my life when I saw them performing."
'Disgusting'
A racist attack on a family home in the village of Forkhill makes the front page of the Newry Democrat.
An offensive racial slur was sprayed on the wall of Briege Roe's bungalow at the weekend, prompting condemnation from local councillors.
"Such disgusting racial abuse cannot and will not be tolerated by the community," Sinn Féin's Mickey Larkin tells the paper.
'Healthcare crisis'
The Democrat also continues to question why a £2.5m purpose-built respite centre for disabled children has been "unavailable" for nine months.
Until this year, families of 31 children regularly used Carrickore Respite Unit in Newry for short, much-needed breaks from full-time caring responsibilities.
The Southern Health Trust says Carrickore's resources are "currently being directed towards a small number of children who require intensive individual support".
But SDLP MLA Justin McNulty questions why it has taken so long to resolve the issue, as many families in the area are desperate for respite care.
Health service problems also feature prominently in the Fermanagh Herald, which reports on a "crisis" in lung cancer services.
The paper has found out there are currently no respiratory consultants working in the Fermanagh area, due to staff sick leave.
The Western Health Trust's Respiratory Team is not only responsible for looking after lung cancer patients, but also those with pneumonia and asthma too.
The trust has apologised to patients and tells the paper it is working to "rectify the situation as a matter of urgency".
Inside, the Herald speculates on whether the weather is making Fermanagh's spider population bigger and bolder than usual.
Earlier this week, the paper invited its readers to send in photos of "eight-legged monsters" that have taken up residence in their homes.
Alongside the gallery of rogues, the paper explains autumn is "spider season" when the creatures venture indoors searching for a warm, dry place to breed.
It suggests this year's spiders may appear bigger as they were driven inside prematurely by the "lovely wet August we've just endured".
Last month's torrential rain caused bigger problems for residents in County Londonderry, however.
A bridge that collapsed in Claudy during a storm on 22 August could take up to two years to repair, according to this week's Derry Journal.
A hair salon owner says customers living in the village now face a 13-mile trip to her salon, as they cannot cross the Church Street bridge.
"The first couple of weeks after the storms, business was down 50%," Nicola Bradley tells the paper.
The paper also carries a poignant tribute from a teenager murder victim's heartbroken girlfriend.
Jordan McConomy, who was 19, died after he was assaulted during a night out in Derry last weekend.
His girlfriend of four years, Leah Kelly, said they "had a type of love nobody else could ever experience".
"I'm just really grateful that I got to experience it at such a young age and I'll have that for the rest of my life."