Stormont talks: DUP welcomes Sinn Féin 'change of tone'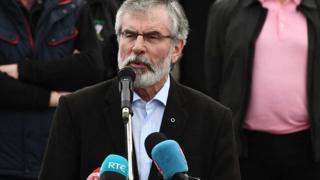 The DUP has welcomed comments from Sinn Fein President Gerry Adams indicating that republicans are committed to the restoration of devolution in Northern Ireland.
Mr Adams told a republican commemoration event a deal to restore the Stormont executive was possible.
He said his party was committed to the reinstitution of power-sharing in Northern Ireland.
Ex-DUP finance minister Simon Hamilton welcomed Mr Adams' "change of tone".
Mr Adams told the crowd at Sunday's event in Belfast: "Our opponents, including elements in the DUP, the Fianna Fáil leadership and others claim Sinn Féin is no longer interested in the Assembly.
"They know this is a lie."
He added: "Let me make it clear to everyone, including republican grassroots; our leadership is up for doing a deal with the DUP and the other parties, and of moving back into the executive on that basis.
"Let the DUP and the two governments also be in no doubt: No policy can be sustained without the informed consent of citizens."
In response Mr Hamilton said his party would be holding talks with Sinn Féin this week.
"We want to see government restored. We want to see culture and language matters fairly addressed," said the Strangford MLA.
He was referring to disagreements over an Irish language act which have emerged as the main sticking point between the DUP and Sinn Féin.
"We will not accept cultural supremacy for one section of our community," added Mr Hamilton.
"There is enough space in Northern Ireland for mutual respect and a shared future."
Northern Ireland has effectively been without a devolved government since January.
Its institutions collapsed amid a bitter row between the DUP and Sinn Féin about a botched green energy scheme.
Several rounds of talks have failed to reach an agreement.