Belfast emergency services free person trapped under bus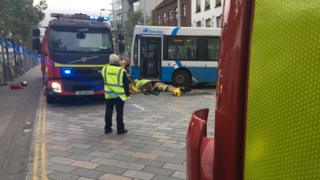 A man has been freed after being trapped under a bus in Belfast City Centre.
Emergency services used heavy-lifting equipment to rescue the man after the incident at Custom House Square at about 11:30 BST.
The man was treated at the scene and was then taken to hospital. He is in a stable condition.
An eyewitness told BBC News NI that the man appeared to slip and fall under the bus.
"People were screaming to stop the bus driver," said the eyewitness, who did not wish to be identified.
"It wasn't anyone's fault, it was a freak accident.
"It all happened within about 20 seconds."
---
At the scene: Declan Harvey, BBC News NI
We still don't officially know what has happened here at Custom House Square but it was clearly a very serious incident.
Members of the Fire and Rescue Service used heavy-lifting equipment to raise up a city Translink bus where an individual was clearly trapped underneath.
That individual has been rescued and was treated at the scene before being taken away by an ambulance crew.
---
Police said the man, who is in his mid-20s, was believed to have been running in the area just before the incident.
They are appealing for witnesses to contact them.
A Translink spokesperson said: "We can confirm an incident occurred today at approximately 11:20 BST involving an Ulsterbus and a member of the public outside Laganside Buscentre in the Queen's Quay/Custom House Square area of Belfast City Centre.
"Emergency services were called to the scene and the member of the public was taken to hospital.
"A Translink investigation is under way."