Brexit: Theresa May restates 'no Irish border posts' policy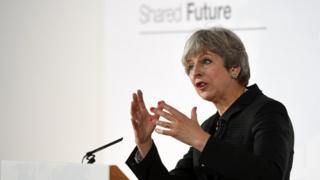 The Prime Minister has restated there will be no physical infrastructure at the Irish border after Brexit.
Theresa May was delivering a speech in Italy in a bid to break the deadlock in Brexit negotiations, which are due to resume on Monday.
Mrs May said that both the UK and EU have "stated explicitly" that they will not accept any physical infrastructure at the border.
That is despite the UK leaving both the customs union and the single market.
When the UK published position papers on Ireland and customs in August, it said there should be no physical infrastructure, such as customs posts.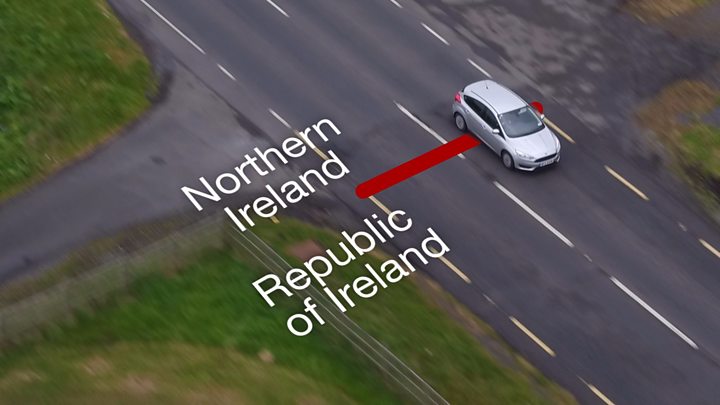 It argued for a wide-ranging exemption under which small and medium-sized businesses in Northern Ireland would not have to comply with any new tariffs or customs procedures.
A second suggestion was for a new partnership that would "align" customs approaches between the UK and the EU, resulting in "no customs border at all between the UK and Ireland".
Last month, the EU's chief negotiator, Michel Barnier, said that some of the suggestions worried him.
He said: "The UK wants the EU to suspend the application of its laws, its Customs Union, and its Single Market at what will be a new external border of the EU.
"Creativity and flexibility cannot be at the expense of the integrity of the Single Market and the Customs Union."
In her speech in Florence on Friday, Mrs May also repeated that the UK and EU are committed to protecting the Good Friday Agreement and the Common Travel Area (CTA).
At the last round of Brexit talks, Mr Barnier said there had been "genuine progress" on the CTA.
While the UK's Brexit Secretary, David Davis, said there was a 'high degree of convergence' on that issue.
Ireland's taoiseach (prime minister) has given Mrs May's speech a "cautious welcome."
Leo Varadkar described it as "a genuine attempt to move things along" with the request for a transition period a "step in the right direction".
'Same old story'
DUP leader Arlene Foster said a positive vision had been outlined by the prime minister.
"A strong signal has been sent in her speech, that although we are leaving the EU we still want to have very positive relationships with our nearest neighbours. This is particularly important to Northern Ireland," she said.
However, Sinn Féin leader Gerry Adams said the speech was "nothing but the same old story".
"Mrs May repeated the same platitudes and language on the Good Friday Agreement and the border that she has used for almost a year. There was no hard proposal or detail," he said.