'Recruit paedophile hunters' says ex-CEOP boss Jim Gamble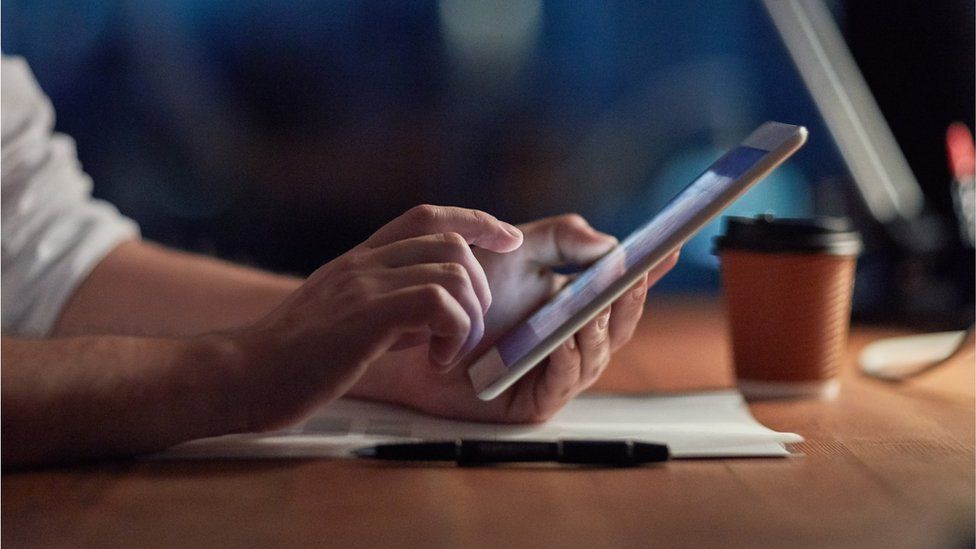 Police forces should vet and recruit paedophile hunters, the former head of the Child Exploitation and Online Protection Centre (CEOP) has said.
Jim Gamble called for the creation of a "citizens' army" which would work with police to identify and gather evidence.
He told BBC Radio Ulster the volunteers must be carefully vetted and trained.
But he added police could not ignore the fact that last year, vigilante evidence was used in 44% of court cases where a suspect groomed a child.
The National Police Chiefs' Council warned vigilantes could "compromise" police investigations but admitted UK forces may have to work with paedophile hunters.
Mr Gamble, who is a former senior police officer from Northern Ireland, led CEOP from its formation in 2006 until his resignation in 2010.
He told the BBC's Talkback programme: "What I have been trying to encourage is that, police actually create the role of special constable in the online space and create digital detectives, so [paedophile hunters] could apply to the police."
He said the unpaid volunteers would not have the full powers of police officers, but said their skills should be harnessed to help officers protect children from abuse.
"What I'm saying is - capture the frustration that people feel; recruit public-spirited individuals, make sure they've got the right character.
"Then train them, equip them to carry out this job as digital detectives and we could create an army of over 1,000, if every force just recruited 25 volunteers."
Mr Gamble added that he recognised that "if you just let any Tom, Dick or Harry become involved, that you many have the wrong sort of people".
He said proper police vetting would "get rid of the risks".
Paedophile hunters frequently expose child abusers by posing as children online and arranging or agreeing to face-to-face meetings.
The abuser, who has been tricked into thinking they are meeting a child, is then confronted by the vigilantes and sometimes placed under citizen's arrest until police arrive.
Police have previously expressed concern that such confrontations can lead to violence and can interfere with criminal investigations.
The confrontation was streamed live on the internet, in a move that was strongly criticised by the Police Service of Northern Ireland (PSNI).
Mr Gamble acknowledged that some self-appointed paedophile hunters are "just not suited" to track down abusers, and said police vetting was essential.
"There is a model of policing across England and Wales called special constables and no matter where you are - whether it's in Birmingham or Brighton - at night time some of the police officers you will see in uniform are special constables.
"They have applied for that job, and here's the key - they've been vetted, so you know they've got the right character."
He added: "These are volunteers, these are publicly-minded, good citizens who want to make a difference."
The programme also spoke to a man called Scott, who is part of a two-man team behind the English vigilante group, Dark Justice.
Scott described how he often spends up to 17 hours a day online, posing as a child and talking to potential paedophiles.
He previously ran a media business, but now no longer works for a living and is financially supported by his family while carrying out his full-time vocation.
"We have mounted up some debt... it's not a free thing to do," Scott said, but added he felt obliged to continue because of the government's failure to protect children.
"To date, we have successfully helped with the arrest of 120 people," he claimed.
"So far, 54 of them have been convicted, the rest are on bail, pending court dates, and so on."
Scott said Dark Justice kept records of their online conversations with suspects, and then handed them to police to support prosecutions.
He added that his group did not live-stream its confrontations and did not expose paedophiles online until they had been convicted.
"We can't rely on everyone being a Scott and being calm and considered when engaging with other people," Mr Gamble told the programme.
"We need to bring it within a regulated framework, capitalise on the opportunity for people volunteering and doing it for free, give them the right training, but make sure they are vetted and make sure the information goes as early as possible to the police."
He said he viewed it as a "dilution" of government resources aimed at protecting children from sex abusers, and still believes children are being failed.
"The lack of investment by government is putting the lives of children at risk - that's a fact," he told Talkback.
"If this was terrorism, they'd be throwing resources at it."
The former officer claimed there was "an arrogance within policing, especially at the most senior level" that tackling paedophilia was only "a job for police".
He said recruiting paedophile hunters should be seen as just "another form of community engagement".
Mr Gamble added that he believed only a tiny fraction of online child abuse was being detected as there were not enough police officers working undercover on the internet.
"There's a tsunami, and we are trying to fix it by standing there with our bucket on the beach and that is not working."