Larne: Man, 24, charged with attempted murder over gun attack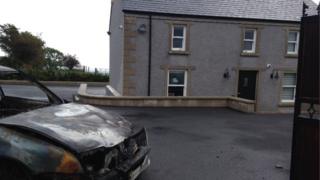 A 24-year-old has been charged with attempted murder over a gun attack in Larne, County Antrim.
Several shots were fired into the bedroom and hallway of a house in Brustin Brae Road on 11 September.
Three children were asleep in the bedroom at the time. No-one was injured. A car was also set alight and destroyed in the incident.
The accused is the third man to be charged in connection with the attack.
The man is due to appear in Ballymena Magistrates' Court on Wednesday morning.
He will face charges of attempted murder, carrying a firearm with intent to commit an indictable offence, hijacking and aggravated taking and driving away.