Ambitious NI greenway plans continue to gather momentum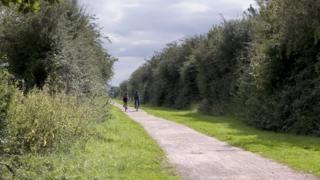 "It was waste ground before the greenway. The river was contaminated, it was neglected and abused.
"Now, look at it - people walking dogs, on bikes, kids out playing. The place is buzzing."
Gary Keenan may live in Larne but his heart's in east Belfast and Victoria Park.
His father, a shipyard worker, used to take him to the park as a child and, these days, Gary is a volunteer who helps organised the weekly Park Run.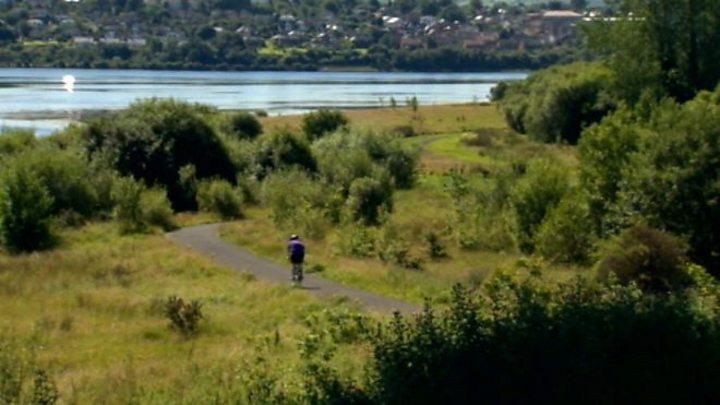 Over the decades, he has seen the fortunes of Victoria Park - and east Belfast - ebb and fade.
But the opening of the £40m Connswater Community Greenway in recent years has revitalised the area.
And its continued success could help turn the wheels on Northern Ireland's ambitious greenway revolution.
"The greenway here is unbelievable. It's opened up Victoria Park to Orangefield and all along it people are enjoying it. It's great for people's physical well-being, mental well-being - everything."
The development of greenways - car-free paths and trails for walkers and cyclists - has continued in the last 12 months despite the collapse of Stormont in January.
The vision? A 620-mile network of greenways extending through all six counties in Northern Ireland, reviving the disused railway network and potentially transforming local transport infrastructure.
Money for miles
The catch? It's an ambitious 25-year plan and the surface has barely been scratched. Still, the plans have progressed.
A strategic report published by the Department of Infrastructure last November outlined the way forward.
The department also made £160,000 available to councils, so they could work up detailed proposals for greenways in their area.
All but one of Northern Ireland's 11 councils received grants of between £8,000 and £32,000 before the end of 2016.
In August, department officials issued three grants of £25,000 to greenway projects in Comber, Carryduff and Greenisland in order to make them ready for construction.
In other words, the lack of a government isn't proving an obstacle to progress - at least for now.
According to Jonathan Hobbs, who runs the NI Greenways website, councils have taken over from government in pushing greenways forward.
"Every single council made applications in the small grants programme," he said.
"Now, councils have staff working on projects, there's buy-in from management teams and they're weaving them into local development plans.
"The Connswater Greenway changed the game. That came about because of the East Belfast Partnership but councils have seen what is possible."
It also helps that greenways are a "political no-brainer" said Gordon Clarke, from the charity Sustrans.
"Greenways help address health issues, the environment, helps with the economy - it ticks all the boxes and hits on about five of the aims outlined in the last draft programme for government here."
---
Keen for Green
Fancy hopping on your bike and heading for a trail? Here are two local greenways to try - and one international route if you're feeling ambitious.
Connswater Community Greenway, east Belfast
Officially opened in 2017 after a £40m investment
Features a six-mile linear park for walking and cycling, and 10 miles of foot and cycle paths
New developments include the James Ellis and Sam Thompson bridges as well as CS Lewis Square
Newry Canal Towpath
A 20-mile cycling and walking route from the Bann Bridge in Portadown to Town Hall in Newry
Flat route mostly off-road, with some travel on quiet country roads
Follows the route of the disused Newry Canal through Scarva and Poyntzpass
Route Verte, Quebec, Canada
More than 3,000 miles of fully-signposted cycle routes
Links more than 320 municipalities in the Canadian province
Mix of dedicated bike trails, on-road cycle paths and dirt tracks
---
Another reason for the gathering greenway momentum is the success of projects in the Republic of Ireland, such as the Great Western Greenway in County Mayo.
It was the longest off-road trail in the Republic - until the 29-mile Waterford Greenway opened in March this year after an investment of 15m euros (13.3m).
Waterford is a good example of what greenways can achieve, said Andrew Grieve, head of the Department for Infrastructure's cycling unit.
"The Waterford Greenway is a brilliant journey and you can see how it can provide infrastructure and jobs in towns and villages all the way along," he said.
"As a result of the greenway, 30 jobs have just been created in Kilmacthomas, about 10 miles outside Dungarvan. This can be replicated in Northern Ireland."
However, there are plenty of challenges to temper the optimism including Brexit and the ongoing impasse at Stormont.
One project ready to cut sod is a 4.95m euros (£4.4m), 14-mile extension of the cross-border Ulster Canal Greenway from Monaghan to Middletown in County Armagh.
That project is being realised thanks to EU funding, but it is unclear what money will be available for similar projects after the UK's exit from the EU.
There are also plans to extend the greenway far into Northern Ireland - such as to Portadown via Armagh, and possibly up to Lough Neagh.
But these efforts will likely depend on councils receiving capital funding.
Cash will be needed to take those next steps - and one way forward, said Gordon Clarke of Sustrans, is to allocate £30m for greenways from the £400m infrastructure money pledged by the Conservatives as part of their deal with the DUP.
"We'll be lobbying for them to set aside at least some of that £400m from Westminster," he said.
"We don't want to see it all spent on road projects."
'Big benefits'
Andrew Grieve said he's "very, very supportive" of the idea.
He added that the entire 1,000km network could be built for the same amount as the proposed York Street Interchange.
"That's 1,000km of network in all areas of Northern Ireland," he said.
"York Street is great, but it's only going to be for people coming in and out of Belfast, whereas our project can extend out into every council area."
Jonathan Hobbs conceded that greenways may not be the "most important thing when it comes to money being allocated", but said it was all about big benefits in the long-term.
"We have a strategy, we have a vision and it's for 25 years," he said. "We're one year out of those 25 and councils are engaged.
"There's pressure to make sure that what's started is completed - that routes, like the Ulster Canal, don't just stop at the border."
For Gary Keenan, though, it's not about building infrastructure - it's about investing in communities.
"It's all about people," he said. "Since the greenway has come in, everyone is talking to each other, heads are up, they're out walking and seeing each other.
"The parks, the greenway - they've become a hub of the community again. There's positivity with the people, they're confident and secure.
"We have to carry on, because greenways are proven to work."