Game deletes 'inappropriate' Irma tweet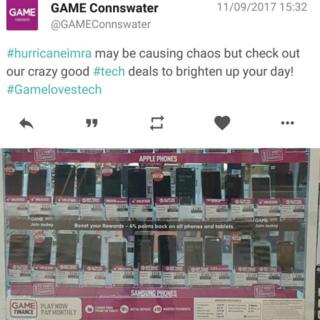 The retailer Game has admitted that a tweet by one of its stores in Belfast referencing Hurricane Irma was "inappropriate".
The tweet by Game Connswater read: "#hurricaneirma may be causing chaos but check out our crazy good #tech deals to brighten up your day! #Gamelovestech".
The tweet was posted on Monday morning.
"The tweet was inappropriate and we've now taken it down," said a Game spokesperson.
"We have sympathy with those affected by Hurricane Irma."
Media reports link at least four deaths to the storm in Florida. Last week it killed at least 37 people in Caribbean islands.
About 6.5 million homes in Florida, two-thirds of the total, are without power.
In the US, the islands of the Florida Keys and western parts of the state bore the brunt of Irma, which was downgraded to a tropical depression early on Tuesday.