Man 'left for dead' in attack after wedding in Ballymena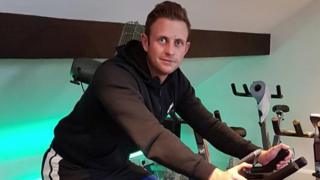 The family of a Ballymena man who was found badly beaten after attending a friend's wedding have said his attackers left him for dead.
Andrew Barr, 32, was discovered in the grounds of the Leighinmohr House hotel in the early hours of Friday morning.
Mr Barr's mother, Amanda, said she was told he had lain alone with his injuries for up to four hours.
She said the family were initially told there was a strong possibility he would not survive.
Mr Barr, a father of two young children, is now in a stable condition in hospital.
His family became concerned when he did not return home after the wedding.
His mother said he was about to be transferred to the Royal Victoria Hospital in Belfast for an operation when they tracked him down.
"He had sustained injuries apparently consistent with being severely kicked in the head and he was haemorrhaging, he was in and out of consciousness," Mrs Barr said.
"We were brought into a room and told there was a strong possibility that Andrew would not survive theses injuries and to prepare."
He has since had the operation.
"So far he's doing well, small steps, it's every day, he's getting better," Mrs Barr said.
"The left side of the head was kicked very badly and they operated on it and they've drained it. He's in awful pain.
"His lungs had been kicked in and they're getting drained - I think he has sustained broken ribs as well."
Mrs Barr said that Andrew, a fitness instructor, was "a strong boy" but had not had a chance to fight back.
She said police told her that it was obvious that two or three people had been involved in the attack.
"He was vulnerable, he was alone and he'd had a couple of drinks as you do if you're at a wedding, so they took advantage of that," Mrs Barr said.
"I think that says an awful lot about them.
"People like that, we don't need in our society. They only bring hurt and I hope they're brought to justice
"Why would you protect somebody who has the potential to do that again to another person?"
Police have appealed for anyone with any information about the attack to contact them.