NI is Airbnb's 'fastest growing' UK visitor destination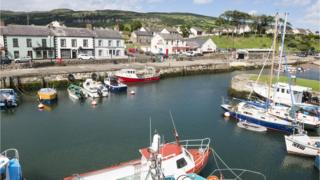 Northern Ireland is Airbnb's "fastest-growing" UK visitor destination, the room-letting service has said.
Some 132,000 people used the website to book accommodation in Northern Ireland in the year to July, according to data released by the company.
This represented an increase of 144% on the previous 12 months, Airbnb said.
All Airbnb properties must to be certified by Tourism NI to operate legally.
The company has 2,600 active listings in Northern Ireland and the report stated "a typical host" earned £2,700 a year.
However, that is £300 less than the UK average.
By way of comparison, the west Midlands had about the same number of visitor lettings as Northern Ireland.
Generally, the Northern Ireland tourism sector has been enjoying solid growth.
External visitor numbers jumped by 12% to 2.6m in 2016, helped by a post-EU referendum fall in the value of the pound.
Hotels in Belfast hotels reached a record high room occupancy rate of 83.5%.
Several new hotels have sprung up, with the latest to open being the four-star Titanic Hotel, which opened in the former Harland and Wolff drawing offices on Sunday.