Flybe plane returns to Belfast City Airport after lightning strike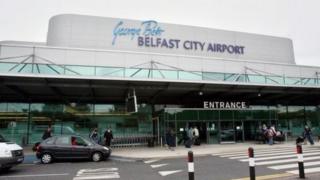 A plane flying from Belfast City Airport to East Midlands had to return on Sunday afternoon after being struck by lightning.
Seventy-four people were on board the Flybe plane. The company said it returned to Belfast as a precaution.
The aircraft landed as normal and the passengers and crew disembarked without incident.
Flybe said arrangements are being made to enable passengers to complete their journey as soon as possible.
It added that engineers were inspecting the plane.
"The safety of passengers and crew is always Flybe's number one priority and we apologise for any inconvenience caused by the delay," the company said.