Northern Ireland education faces £100m 'cost pressures'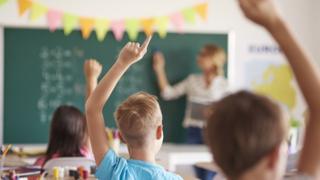 Education faces "cost pressures" of more than £100m in 2017/18, according to the top civil servant at Stormont's Department of Education (DE).
The permanent secretary at the department, Derek Baker, also said that the department had £24m less to spend this year than in 2016/17.
The warnings come in a letter from Mr Baker to SDLP MLA Daniel McCrossan, which has been seen by the BBC.
Mr McCrossan had submitted a series of questions on school funding.
Mr Baker also said that the department had tried to protect pre-school provision, schools and youth services "as far as possible".
'Unavoidable pressures'
"The department has available to it £24m less in 2017/18 than it spent in 2016/17," he wrote.
"It faces unavoidable, rising cost pressures in such areas as teaching and non-teaching staff pay, special education needs and essential school maintenance.
"Together these factors create cost pressures of over £100m to be addressed in 2017/18.
"This has unfortunately resulted in the need for difficult decisions to cease or reduce a number of programmes if the department is to have any prospect of operating with in its budget."
Mr Baker cited a £1.5m reduction in extended schools funding as an example.
Just over £10.6m was provided to about 550 schools in 2016-17 and this has been cut to £9.1m in 2017/18.
The extended schools scheme gives schools in relatively disadvantaged areas some extra money.
They use this to provide breakfast and homework clubs, summer schemes and parenting support.
Mr Baker said the reduction would be applied equally across all schools.
'Hugely concerned'
"Put simply, I cannot spend money the department does not have," Mr Baker's letter concluded.
Mr McCrossan said that he was "hugely concerned" by the news of the pressures facing education.
"Cuts may now get even worse as civil servants try to balance their books," he said.
"It's clear that the status quo cannot continue."
"Only a fully functioning executive can solve this crisis in education."
"If political parties cannot come together for future generations, there is something hugely wrong."