Dalai Lama begins visit to Londonderry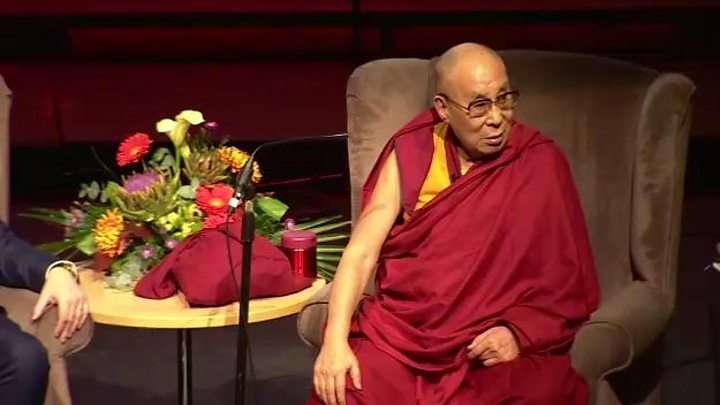 The Tibetan spiritual leader, the Dalai Lama, is on a two-day visit to Northern Ireland.
He has visited Londonderry as the patron of charity Children in Crossfire, as part of its 20th anniversary celebrations.
About 1,000 people packed into the Millennium Forum to hear the Tibetan spiritual leader deliver a speech entitled compassion in action.
He said the developed world is experiencing a mental crisis.
"Our goal should be a century of peace, a century of dialogue based on a sense of oneness of seven billion human beings," he said
'Fear distrust and anger'
He said thinking which led to warfare was outdated - referring to fighting in Burma, Iraq and Syria - adding: "Those developed countries are mentally in a lot of crisis.
"Unrest, too much warring, fear distrust and anger."
The Dalai Lama urged a greater sense of compassion and love during his speech to a sell-out crowd in the city.
He also alluded to Brexit during a lengthy address.
"I am an admirer of European Union," he said. "Eventually Russia should be part of the European Union."
The charity said it was great honour to have him at the event.
Richard Moore, director of Children in Crossfire, said: "I still have to pinch myself every time I think that he's agreed to come.
"The Dalai Lama would say compassion without action is no good," he said.
"It's OK feeling empathy but unless you take action then compassion's not good enough."
The Dalai Lama has visited Northern Ireland several times, in October 2000, November 2005 and April 2013.