Eamonn Holmes says there is 'no way' his wife will win Strictly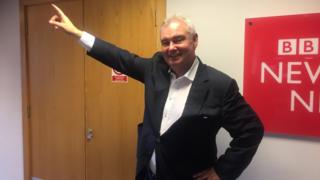 Eamonn Holmes says there is "no way" his wife will win Strictly Come Dancing, but he is "so proud" she is on the show.
He was speaking on the BBC's Sunday News programme.
His wife Ruth Langsford and ex-colleague Charlotte Hawkins are going head to head on the fifteenth series of 'Strictly'.
The first episode aired on Saturday night, where it was revealed that Ruth's partner is veteran dancer, Anton du Beke.
'Her dream'
Eamonn Holmes told the programme that Ruth "absolutely loves" being on the show but was unwilling to sign up at first.
"She said to me, 'I've been asked to do Strictly and I can't do it'.
"She's got four other jobs and she's a mum, daughter, sister and she's got illness in her family."
But with some encouragement from Eamonn she decided to accept,
"What I'm so pleased about for her is that it's a dream for her. I'm just so proud of her. She tells me how hard it is but she also says she loves it."
Now in its fifteenth series, the show's popularity is showing no signs of slowing down.
"Nothing has prepared me for the interest in the show," said Eamonn. "Her odds were 66-1 and they've have shortened to 40-1 now."
However Eamonn told the programme he did not fancy his wife's chances of winning: "She's not going to win it," he predicted.
"With Strictly, it gets serious after week seven, and you really do have to be a very good dancer."
"But it's a great thing that the programme means so much to people. There's a lot of happiness around it".
He also revealed people in Northern Ireland are already "hugely supportive".
"I'm not Eamonn anymore. I'm Eamonn and Ruth.
"I should walk around Belfast with a sign saying 'Ruth's not with me'. The only question I'm ever asked when I'm here is 'Where's Ruth?'
"There's an awful lot of goodwill here. Being in Belfast with Ruth is a very funny experience, as everyone wants to talk to her.
"It amazes me that people think I visit once a year.
"I have a house here and we are here at least two weekends in a month. When she comes with me and we head off to a shopping centre, people stop and queue to talk to her. No-one is interested in me.
"I may ban her after this," he joked.
He said Ruth was "delighted" when she heard that her dance partner would be Anton du Beke.
"She didn't want anyone who was going to shout at her. She likes Brendan a lot and says he's been very good but if he she had him and shouted at her it would have ended in tears," he said.
"Anton has never won before and he's not going to win this year," he added, laughing.
During the interview Eamonn also touched on what Ruth's time on the programme might mean for other women around her age.
"She would represent those women very well. I've read interviews with women in their fifties who say they feel they've become invisible.
"Where I'm really proud of her, she is striking a blow for all those woman.
"Ruth talks about being menopausal and I always tell her I love her no matter how she looks or feels but she talks about 'thickening out'.
"A lot of women who go through menopause will understand that. But now she's representing a lot of people in a similar position."
Eamonn said the celebrity contestants have already bonded.
"They all have a What's App group and talk to each other which is really lovely. Until the public vote starts.
"Ruth's delighted to be there but you can see - and fair play to them - the ones who wants to win it."
"I will be there for her every week," he said.
But, if Ruth's dream is tripping the light fantastic with Anton du Beke, what's Eamonn's dream?
"I'm in Belfast right now and I would swim the Irish sea to be back to present Match of the Day. There's certain things you know you want to do."
You can hear the full interview on BBC Radio Ulster's The Sunday News at 13:00 on Sunday.