Micheál Martin calls for NI to be 'special economic zone'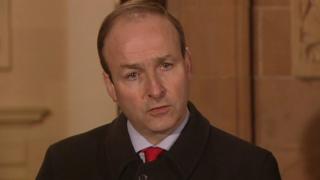 The leader of Ireland's main opposition party has suggested that Northern Ireland should become part of a "special economic zone" (SEZ).
Micheál Martin was speaking at a meeting of the British-Irish Association in Cambridge on Saturday.
The move would be intended to limit any potential damage from Brexit.
An SEZ is usually an area of a country where business, trade or taxation laws differ from rest of the country, with the aim of boosting growth.
Micheál Martin said Northern Ireland as a SEZ could be recognised by the EU as being "distinct from the rest of the UK in terms of single market and customs union access."
He said many SEZs involve allowing different trading relations in domestic and international markets.
That echoes language used in the UK government's position paper on Northern Ireland.
It suggested that customs arrangements should draw a distinction between local and international cross border trade.
However the EU appeared to reject that proposal last week with its chief negotiator Michel Barnier saying: "Creativity and flexibility can't be at the expense of the integrity of the single market and customs union."
Mr Martin, who leads the Fianna Fáil party, suggested the SEZ could also include the border counties of the Irish Republic.
He believes this could be done while "respecting the constitutional rights protected in the Good Friday Agreement."
He said UK sovereignty would remain intact and it was UK government policy to support such zones in countries with "structural development issues in defined regions".
Mr Martin acknowledged that an SEZ would need a mechanism to certify that Northern Ireland produced goods conform with EU standards relevant to market access.
He added that in his opinion "it should not be hard" to design such a mechanism.
He said the Brexit negotiations so far have been "a ridiculous game of bluff."