Arlene Arkinson inquest given 'substantive' information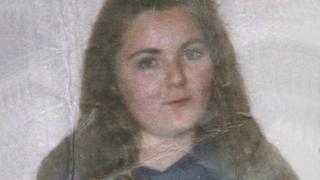 Substantive information regarding the disappearance of a Tyrone teenager has been discovered, an inquest has heard.
Arlene, 15, from Castlederg, vanished after a school disco in 1994. Her body has never been found.
The material is understood to contain information about lines of inquiry and searches conducted in the Republic of Ireland.
The Arkinson family had been critical of delays in the Gardai's (Irish Police) release of information.
However, they have welcomed Friday's revelation.
The last search for Arlene's body was carried out at a site outside Castlederg in 2016.
Purported meeting
The inquest into the teenager's death began in February 2016.
Two folders have now been submitted to the corner containing information from Irish Police.
Arlene Arkinson was last seen in a car driven by convicted killer Robert Howard.
He was acquitted of the murder in 2005 and died in prison in October 2015, aged 71.
Within the material is believed to be information about a meeting which took place between Gardai and the sole suspect's girlfriend, Patricia Quinn.
Information about lines of inquiry the authorities followed and searches which were carried out in the jurisdiction are also understood to be included.
The barrister for the coroner said the documents would be useful for the forthcoming inquest.
'Momentum'
A legal representative for the Arkinson family told the coroner they were "delighted that the inquiries are moving forward".
The Arkinson family had previously said they were "appalled" at the lack of assistance from the Irish authorities.
On Friday, Judge Brian Sherrard, who is presiding over the inquest, told the court that he was mindful of the need to avoid delays.
"I don't want to adjourn this generally. I was to keep momentum," he said.
The case has been adjourned until Monday 23 October.