Ryan Adams plays surprise Belfast solo gig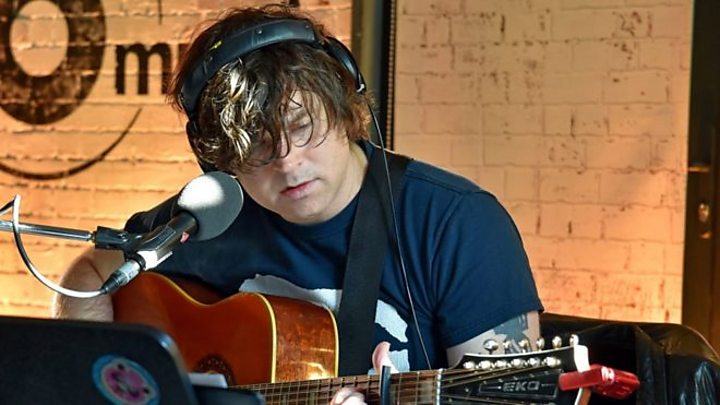 Singer Ryan Adams gave Belfast fans an unexpected treat on Thursday night by performing a last-minute acoustic gig at a city centre bar.
The US-based songwriter is in Belfast to perform at the Ulster Hall on Friday night.
However, he surprised fans by playing an impromptu, intimate show on behalf of a local animal shelter.
He announced the show on Twitter about half an hour before he was due to perform at 23:00 BST.
"Entrance w donations for Assisi animal shelter @AssisiSanctuary I love you Belfast," he tweeted.
Twitter user Kris Nixon reported on social media that he performed to about 100 people in McHugh's Bar.
Fans were treated to songs from Adams' back catalogue as well as an improvised number with lyrics that declared: "I'm so jetlagged. Why did I decide to do this gig? I did it all for the cats."
Assisi Animal Sanctuary thanked Adams on Facebook and said that it was a "lovely surprise to find out we are the lucky recipients of the processed of this secret gig".
The set was given a rapturous reception on social media.
"@TheRyanAdams thank you for the special jams in #Belfast great to meet you...#savingcats with #vibes," said Kris D Marsden on Twitter.
"It was surreal and beautiful and pure," said Twitter user @gerrynorman.
Ronan Tierney tweeted: "Last night I dreamt I was at a secret @TheRyanAdams gig, and he sang a song about jet lag, then we all sang about saving cats...Weird."
@ryandavidhawk posted: "I'm not even a cat person but #savingcats was fun tonight with @TheRyanAdams bravo. #belfastadventures".
Adams, who is touring behind his latest album Prisoner, is best known for songs such as New York, New York, Gimme Something Good and When The Stars Go Blue.
Shortly before announcing the intimate acoustic gig, he set up a poll question on Twitter that asked: "If I played solo tonight in Belfast who would come? Also can I borrow an acoustic guitar?"
Unsurprisingly, 86% of 3,400 votes voted "yeah" in the online ballot.
Adams also tweeted his excitement about his upcoming gigs and that he was happy to be in Belfast despite a "long, long flight".