Ian Paisley denies £100K Sri Lankan holiday claim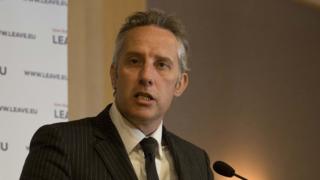 MP Ian Paisley has referred himself to a parliamentary watchdog over claims he did not declare £100,000 in hospitality from the Sri Lankan government.
A newspaper report said the DUP MP and his family took two all-expenses-paid holidays to the island in 2013.
The Daily Telegraph said he recently met Sri Lankan officials to discuss the possibility of post-Brexit trade deals with the south Asian country.
But the MP said the report was "devoid of fact or logic" and "defamatory".
Mr Paisley later tweeted an image of a letter from his solicitor, Paul Tweed, refuting the allegations and saying that the Antrim MP had referred the matter, and a full explanation, to the Parliamentary Commissioner for Standards.
In response to the Sri Lankan holiday claims, a DUP spokesman said it would await the outcome of the commissioner's investigation.
DUP MP Nigel Dodds told the BBC's Inside Politics programme: "Allegations have been made. Ian has given a very robust response and referred it to his legal team.
"He has also referred himself, quite rightly, to the Parliamentary Commissioner so this can be fully investigated."
The newspaper reported that the Paisley family flew business class to Sri Lanka twice in 2013 and stayed in luxurious hotels.
It estimated the total worth of the trips at about £100,000 and claimed the cost and expenses were paid for by the Sri Lankan government.
Father's footsteps
Mr Paisley this week tweeted a picture of himself meeting the Sri Lankan High Commissioner Amari Wijewardene "to discuss NI-Sri Lanka trade deal after Brexit".
Two days later he tweeted a picture of himself with International Trade Secretary Liam Fox "discussing our trade agreements post-Brexit".
The 50-year-old MP is the son of the late Ian Paisley, founder and former leader of the Democratic Unionist Party (DUP), now the largest political party in Northern Ireland.
In 2010, the then Mr Paisley Jr succeeded his father as MP for the North Antrim constituency.
He is currently one of 10 DUP MPs who are propping up Theresa May's minority Conservative government.
The DUP struck a significant deal with the Tories after the snap general election in June, which saw Mrs May losing her majority in the House of Commons.
At the time, it was reported that the agreement would result in more than £1bn in extra government spending for Northern Ireland over the next two years.
However, a Stormont Civil Service source told the BBC on Thursday the Treasury had made clear that "not a penny" would be released unless power-sharing was restored in Northern Ireland.
The DUP replied that the delivery of the financial package "does not depend on the nature of local government at Stormont".
Northern Ireland has been without a devolved government since January, when a coalition led by the DUP and Sinn Féin collapsed.