Newry school parents asked to pay for pencils and paper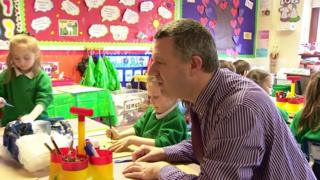 A primary school principal has asked parents for donations towards classroom supplies, warning them that budget cuts will mean "reductions in personnel".
Kevin Donaghy, head of St Ronan's Primary in Newry, has written to parents describing "drastic" financial cuts facing the County Down school.
He referred to a £56 reduction in spending per pupil in this school year.
He asked for "financial donations" towards items including pencils, paint, colouring pens and photocopying paper.
In the letter, sent on Thursday, he also appealed to parents to make "voluntary contributions" towards music tuition due to "severe financial pressures" on his budget.
Referring to the school's musical tradition, Mr Donaghy told parents that St Ronan's could not continue to subsidise music tuition as in the past.
The letter was also published on the school's Twitter account.
Budget 'crisis'
It is not the first time that Mr Donaghy has highlighted educational budget issues in public.
In April, he warned that the school faced "a crisis".
Speaking to the BBC about the threat to jobs, Mr Donaghy said he was under a statutory duty to operate his school within budget.
"Our school can no longer function on the budget we received, so in terms of personnel cuts, unfortunately its the non-teachers who go first," he said.
"I need 15 people in front of 15 classes plus myself, the only people who I can let go are the non-teachers... who help run our intervention programs to help children who are maybe underachieving."
Mr Donaghy said the education system is being denied the funding it needs to function properly.
"All any principal wants is enough money to run their school effectively and deliver a high quality education system.
"The money that is going to education has been cut, the reason I am writing to parents is that I am trying to make them aware of all that is going on, and I have to defend my school.
He added: "If the Conservative government can put more funding into education in England, why is that not possible in Northern Ireland?"
St Ronan's Primary School receives annual funding of more than £1m from the Department of Education (DE).
It has been able to balance its books and remain within budget in recent years.
However, a separate document published by DE shows that the school is forecast to be in the red by £47,000 in the 2018-19 school year.
All primary and nursery schools are to receive £56 less for each pupil this school year than in 2016-17.
Last year, the cash value of the vast majority of primary and nursery school pupils under the common funding formula was £2,061.21.
However, in 2017-18 that has been reduced to £2,004.71 for each pupil.
The fact there are now more primary school pupils was partly responsible, the Department of Education (DE) told the BBC.