NIEA likely to object to large Limavady pig farm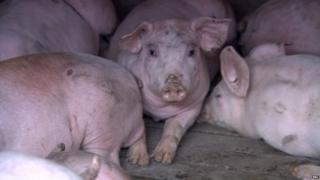 The Northern Ireland Environment Agency (NIEA) said on the basis of information so far, it objects to plans for a large pig farm in County Londonderry.
Proposals have been submitted for five pig units which would accommodate 13,000 animals near Limavady.
Planning documents indicate it could produce about 70,000 pigs a year.
PCM, the company backing the plan has said it will be a high-welfare unit and design features will mitigate environmental impact.
It said the number of pigs produced annually would actually be 58,000.
It said the discrepancy in production numbers was because it had to allow for a larger number of sows as part of an application for a pollution control permit.
The developer needs that permit to operate and must show that the plans will not have an adverse impact.
But the NIEA, in a letter to planners, said it needed more information.
It wants further detail on how nitrogen deposition from ammonia emissions might impact protected sites in a 7.5km radius around the proposed facility and in areas where slurry will be spread.
It is proposed to spread 22,000 cubic metres of slurry and waste water a year on 1,300 acres belonging to eight different landowners.
Eighteen protected sites are within the statutory 7.5km radius of the production site or the slurry spreading areas.
Officials have also asked for further information on how acids used in equipment to remove air pollutants will be stored and handled.
Plans for the pig farm have proven controversial with 3,000 letters of objection and several petitions sent to planners.
The company backing the development has defended the plans.
It said the pigs would be raised to a certain weight before being moved to other farms for finishing, in order to improve herd health and cut vaccine and antibiotic use - an important consumer concern.
A Northern Ireland Executive strategy to expand the agri-food industry includes plans to increase sow numbers.
The target is an increase of 40% to 53,000 sows by 2020.