Daniel Hope: Irish roots 'lifeline' for Proms violinist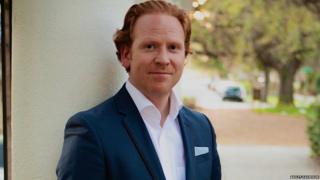 The right to an Irish passport proved a lifeline to a family caught up in the violence of 1970s South Africa.
Add in the magic of a close friendship with a world famous violinist and the future rings sweet.
For musician Daniel Hope, starring at the BBC proms in Northern Ireland at the weekend was a kind of homecoming.
He was a young boy when his father was ordered out of Africa because he stood up to the racist regime.
"My father is a writer and was fiercely anti-Apartheid at the time," he said.
"His books were banned in South Africa and we were given the so-called 'exit permit' which meant we had to leave the country.
"We eventually settled in London, where my parents tried to find work.
"Even though my father was getting a name as an anti-apartheid activist, the political climate in the 70s was such that it was very difficult for South Africans to find work in England."
The family had very little money and struggled to make a life in England. But securing green passports proved key.
"The Irish saved us," said Daniel.
"We ran out of the very little money we had and in order to stay in the country. My mother looked for ways, either to find a job or something else.
"My father's family from his mother back generations were all Irish."
Daniel's grandfather had left Ireland at the turn of the 20th century going to South Africa to fight with the British against the Boers.
"Going back, we are very strong Irish stock with a strong heritage and my mother found out she could get us Irish passports, which she did and that helped us to stay longer in the UK."
Once the family won the right to stay, Daniel's mother found work as a secretary and later a manager to world famous violinist Yehudi Menuhin. Jazz violinist Stephane Grappelli and Indian musician Ravi Shankar were both regular visitors at Menuhin's home.
"Daniel fell into my lap," Menuhin used to say. To the small child, Menuhin was his "musical grandfather".
The Hope family were embraced by the virtuoso.
In an interview with the New York Times, Daniel described the Menuhin household as a "cauldron of boiling personalities."
"I was thrown in without armbands and had to swim." There were violins - real ones and pictures - everywhere the boy looked. At the age of four, he said he wanted to play a violin, too.
He followed in the footsteps of his heroes and made his name on the world stage.
It was from Menuhin, that Daniel Hope bought the 1769 Januarius Gagliano violin he has been playing since he was 16. In 1999 he played it at the maestro's funeral.
The journey to Ireland was an emotional one as he starred at the BBC Proms in Enniskillen, County Fermanagh.
"My family have a lot to thank the Irish for, and I am absolutely thrilled to be making my debut at Proms in the Park in Enniskillen," he said.
"I will be soaking up all the wonderful atmosphere on the night".
You can hear more from Daniel Hope in an interview with BBC Radio Ulster's John Toal for Classical Connections.
For more information about this year's BBC Proms in the Park in Northern Ireland visit their website.
The organisers point out that all public ticket holders will be required to use the free parking and shuttle-bus service between Enniskillen Airport and Castle Coole from 16.30 BST onwards, with return shuttle-buses operating throughout the evening for anyone wishing to leave before the concert's scheduled finishing time of 22:00 BST
All cars are required to be removed from the airport parking site at the very latest by 10:00 BST on Sunday.