NI paper review: Carrickfergus rampage and stun gun attack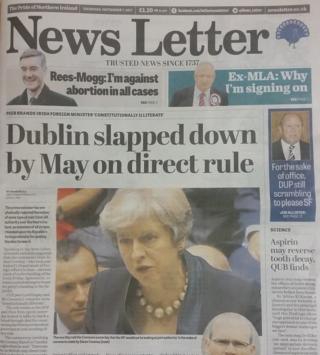 A Carrickfergus crime spree, optimism over Stormont talks and a former NI government minister on the dole make the headlines in Thursday's papers.
But we start with the front page of the Irish News and a report that two 12-year-olds were attacked with a stun gun on their way home from school in west Belfast.
The paper says that the two De La Salle College pupils were walking to a bus stop when they were approached by a "group of unknown male youths".
Both "felt something on their neck and one fell to the ground" after the attack and were then taken to the Royal Victoria Hospital for treatment.
Sinn Féin MP Paul Maskey said he hoped any young person with a stun gun would "see sense" and pass it on to their parents or school.
The Belfast Telegraph, meanwhile, leads with the news that medical staff who refer women from Northern Ireland to NHS hospitals in Britain for an abortion will not face prosecution.
Barra McGrory, the director of public prosecutions, said he can't see any legal risk for NHS employees who make the referrals.
Over in the Daily Mirror, there's a report of an "overnight rampage" in Carrickfergus that saw three small businesses robbed of thousands in cash and equipment.
The paper says there are fears a criminal gang is involved after a garage, beauty salon and coffee shop were targeted in the robberies.
Stephen Quinn, a mechanic, said £7,000 of equipment had been stolen from his garage.
"I am bad tempered even talking about it," he said. "It's not like I am a big business that can take a couple of thousand pound loss coming up to Christmas. All my tools and stuff are gone, computers, ratchets, batteries and whatever else."
Police are appealing for information.
On the front page of the News Letter, there's a report of an unusual breakthrough in dental hygiene.
"Aspirin may reverse tooth decay, QUB finds" is the headline, with researchers in Belfast saying that their findings show "huge potential to change our approach to one of the biggest dental challenges we face".
Stormont talks thawing?
Elsewhere on the News Letter's front page, it's back to politics and a new row between the British and Irish governments.
"Dublin slapped down by May on direct rule" is the front page headline. The story comes after Irish foreign minister Simon Coveney said that there "can be no British-only direct rule" in the event that talks to restore government in Northern Ireland fails.
The idea of joint authority - in which the British and Irish governments take a joint role in Northern Ireland's affairs in the absence of devolved government - has previously been floated by nationalist parties here.
But, according to the News Letter, Theresa May's response in the House of Commons on Wednesday was unequivocal - the UK government "would not be looking at joint authority".
Over in the Irish News, political correspondent John Manley said the British government's response "seemed to have the DUP's fingerprints all over it".
"It looked as if the party had quietly cracked the whip and reminded the Tories about June's confidence and supply deal, and how this week sees a number of votes on Brexit where DUP support is required," he writes.
Despite the two governments going toe-to-toe, the mood music over the ongoing talks at Stormont sounds a little more - dare we say it - optimistic.
"Talks to restore Stormont in 'far better place' as relations thaw" is the headline in the Belfast Telegraph over news that discussions between Sinn Féin and the DUP have intensified in the last week.
Political reporter Suzanne Breen writes that it was too early to be cracking open champagne but that "the previous mood of gloom and doom at Stormont has lifted slightly".
"All Talk?" asks the headline in the Daily Mirror - it reports that governments are more optimistic that the parties can strike a deal over Stormont.
And, finally, Stormont's return, and the added job opportunities it brings, might be a boost for former employment minister Danny Kennedy, who has revealed that he has signed on to the dole after losing his assembly seat in March.
"Once you lose your seat you're effectively unemployed, so I found myself in that position for the first time in 39 years," he told the Belfast Telegraph
"I am seeking employment, this is not about money. This is now about how down I feel, I'm actively seeking further employment because I feel I still have a contribution to make."