Tyrone heritage site 'extensively damaged'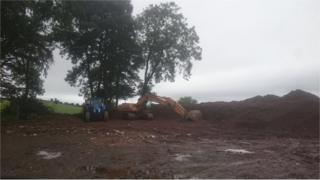 An investigation is under way after a 1,000-year-old heritage site in County Tyrone was badly damaged.
It happened on Saturday on the outskirts of Fintona. Officials have said "extensive damage" was caused to Lisnabulrevey Rath.
A member of the public spotted work going on at the site and called the police.
A PSNI spokesperson said its officers had intervened after a complaint that the ring fort was being removed.
The Department for Communities is responsible for Northern Ireland's sites and monuments.
It said its officials had visited the site and advised that all work should stop.
Fortified farmstead
The Department of Agriculture and Environment has also been made aware of the incident.
So, too, has Fermanagh and Omagh District Council's planning department.
Raths or ring forts were early Christian fortified farmsteads, often surrounded by ditches.
There are more than 2,000 of them in Northern Ireland.
Lisnabulrevey Rath is not one of the 1,900 listed monuments in Northern Ireland.
But it is among the 16,000 historic sites on a database called the Northern Ireland Sites and Monuments Record.
Historic monuments on the record are not formally protected, but are the subject of planning policies to ensure that their interest is taken into consideration when changes to them or their settings are proposed.