Danske Bank customers in NI hit by IT problems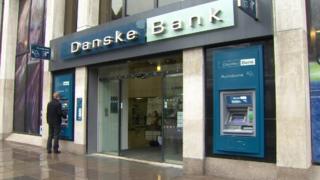 Danske Bank in Northern Ireland is currently experiencing technical difficulties with its computer systems.
The issues are affecting the bank's website, its online banking and its automated teller machines (ATMs).
The problems began at about 16:30 BST on Wednesday.
The bank has apologised to its customers on social media and said that it is working to fix the problems but that it does not have a "definite timescale" for the issues to be solved.
In a statement the bank said: "A technical error affecting Danske Bank Group servers in Denmark is continuing to impact our ATMs, website, online banking, mobile banking and payment systems in Northern Ireland.
"This issue is impacting the whole of the Danske Bank Group.
"Our colleagues here in Northern Ireland, and in Denmark, are continuing to work hard in order to remedy the problem as soon as possible.
"Customers can withdraw cash from non-Danske Bank ATMs and point of sale card transactions are operational.
"We apologise for any inconvenience caused to customers in the meantime."
Dankse Bank has 400,000 customers in Northern Ireland with about 180,000 using its e-banking services.