Residents relocated from Ashbrooke Care Home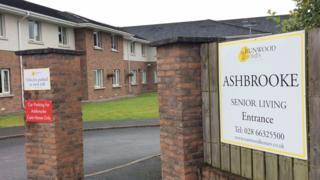 Residents have all been relocated from an Enniskillen nursing home ordered to close after inspectors said conditions were the worst they had ever seen.
The Regulation and Quality Improvement Authority (RQIA) ordered Ashbrooke Care Centre to close on 21 August.
Families had been told all 40 residents would be moved by 31 August, but the last person was relocated on Wednesday.
A snap inspection found conditions presented "a serious risk to the life, health and wellbeing" of residents.
RQIA inspectors reported dirty equipment, unwashed patients who were suffering weight-loss, and a "strong odour of faeces and urine" at the County Fermanagh home, which was operated by Runwood Homes.
Runwood Homes said it planned to appeal against the RQIA decision to close the home, but that this process could take several months.
The Western Trust took over temporary registration of the home last Friday in order to complete the relocation of resident.
"The Trust will now be writing to the Regulation and Quality Improvement Authority (RQIA) to relinquish its temporary registration of the care home," said Kieran Downey, the Western Trust's executive director of social work.
"I wish to pay tribute to all of our staff who have worked tirelessly, in unprecedented circumstances, to ensure that all residents have now been found suitable accommodation within the local area.
"I would also like to thank the residents and their families for their support and patience throughout this very difficult time," he added.