World Cup 2018: Prospects for N Ireland and Republic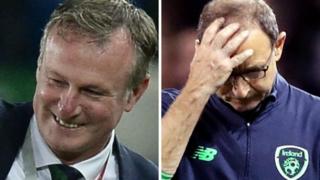 Northern Ireland took a giant step towards qualifying for the 2018 World Cup on Monday night.
Their 2-0 victory against the Czech Republic guaranteed they will now finish at least second in Group C.
But, we still cannot say that they have clinched a place in the play-offs for qualification for the finals in Russia.
The nine group winners of the Uefa section of the World Cup qualifying process progress automatically to the tournament.
There are then another four places up for grabs from a play-off round as the eight best second-placed sides compete in four ties played over two legs.
The four winning teams will make the finals.
When calculating the order of the runners-up, results against the team that comes last in their respective groups are discarded.
Thus, only eight group results count in the final reckoning.
Following the latest round of results, Northern Ireland look well placed with 13 points towards the runners-up table, but are not yet mathematically certain of that all important top-eight finish.
Bosnia, who currently occupy the eight-place spot, have only got eight points (remember, their two wins against the bottom teams in their respective groups are discarded).
The maximum they can now get is 14 points.
If Bosnia were to fail to beat the group leaders in their next match in Group H, they would be unable to finish on more points than Northern Ireland.
But Greece could still overtake Bosnia into second place in that group with a win over Cyprus in their next game, and would still be able to get a maximum of 13 points.
So, only if Greece and Bosnia both fail to win their next matches, would Northern Ireland definitely have clinched a play-off spot without needing any more points?
Of course, Northern Ireland could make it easy on themselves by winning their next game against Germany - but beating the world champions won't be easy, even at Windsor Park.
Draw with Germany and they are almost certainly there too, although we may have to wait until the final set of group games to be able to confirm that.
If Northern Ireland lose to Germany, a point will probably be required away to Norway in the last group game.
---
Securing a play-off: What Northern Ireland need against Germany
Northern Ireland have two more qualifiers - at home to Germany and away to Norway.
Both games represent a chance to nail down that play-off berth, but here's what the side needs to do if they want to secure it sooner rather than later.
If Northern Ireland beat Germany in the next game, they clinch a play-off spot.
If Northern Ireland draw with Germany, they move to 14 points in the runners-up table. They will clinch a play-off spot if any of these scenarios occur:
France beat Bulgaria and Sweden lost to Luxembourg in Group A
Wales fail to beat Georgia away in Group D
England do not lose to Slovenia and Scotland draw with Slovakia in Group F
Bosnia fail to beat Belgium at home in Group H
If Northern Ireland lose to Germany, they will still clinch a play-off spot if Bosnia do not beat Belgium and Greece do not beat Cyprus in Group H.
Otherwise, Northern Ireland will have to wait until the final round of fixtures to secure a play-off.
---
The Republic of Ireland's situation is more precarious after defeat on Tuesday night to Serbia.
The most points they can now get in the runners-up table is 13.
That is only attainable if Martin O'Neill's side win both of their remaining games, including a key final game away to Wales.
That would definitely secure second place in the group but they'll still only have 13 points in the runners-up table.
In that scenario, Group H, and how Bosnia and Greece have done, may well come into play. And it could also come down to goal difference.
While the Republic's outlook looks grim, Northern Ireland's favourable chances of making the play-offs are reflected at bookmakers, where the odds on them qualifying for the World Cup hover at about 13/8.
However, either side could face a tricky tie if they make the play-offs.
The two-legged ties, played in November, will be seeded, with the top four eight runners-up avoiding one another and being drawn against the bottom four teams.
Those all-important seedings will be based on the FIFA rankings out next month - and that could be a crucial factor, what with the potential presence of teams like Portugal and Italy, sides probably best avoided if the dream of progress to the finals in Russia is to be realised.
At the moment, Portugal, Italy, Sweden and Iceland are the four highest seeded teams in the runners-up play-off table as it currently stands and so would be potential opponents at the play-off stage for Northern Ireland.
But, with every country still to play two games in their respective groups, there are still a few more twists and turns in the qualifying process.