Abortion: 'No prosecution threat' on GB referrals, says DPP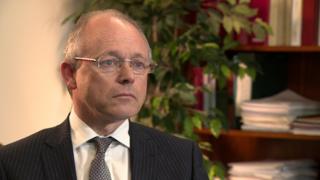 The Director of Public Prosecutions sees no risk of prosecution for health workers in NI who refer women for abortions elsewhere in the UK.
Barra McGrory was replying to a request for clarification from the rights group, Amnesty International.
Abortion remains a controversial issue in Northern Ireland, particularly among some health professionals.
Staff say the risk of being prosecuted creates confusion and "a climate of fear".
But, following the request from Amnesty International to spell out the position, Mr McGrory said he could see no threat in these circumstances.
"I can see no risk of criminal prosecution for NHS employees arising from the circumstances you have described," he wrote, in correspondence seen by the BBC.
"I also do not see the issue of criminal liability arising in the context of NHS staff advising, or informing patients of the availability of abortion services in England and Wales."
'Significant breakthrough'
Mr McGrory went on to say that promoting abortion services remains a matter of NI Department of Health policy.
"The question of advocating, or promoting the take up of this service, is a matter of DHSS policy and not a matter for the criminal law as there is no such offence in the law of Northern Ireland."
Grainne Teggart, Amnesty International's Northern Ireland Campaigns Manager, described the move as a "significant breakthrough in the fight for abortion rights here".
The DPP's response showed the threat of prosecution against the medical profession in Northern Ireland to make abortion referrals to the UK had been lifted, she said.
"The threat of prosecution has long loomed over medical professionals in Northern Ireland, who have previously felt unable to refer women to other parts of the UK for abortion services for fear of criminal prosecution," said Ms Teggart.
"This has acted as a significant barrier for women seeking to access abortion."
Meanwhile, former SDLP MLA Alban Maginness told the BBC the threat to health care staff had never been an issue.
"I don't think that health workers were in fact in any way liable to prosecution under the present guidelines, and I think present guidelines give absolute clarity in relation to this," he said.
Northern Ireland's abortion laws are much stricter than the rest of the UK.
Abortions are only allowed in Northern Ireland if a woman's life is at risk or there is a permanent or serious risk to her physical or mental health. Rape, incest and fatal foetal abnormalities are not circumstances in which they can be performed legally.