Flooded dump 'not polluting' key Londonderry river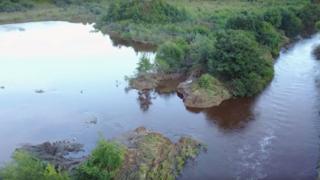 The Northern Ireland Environment Agency (NIEA) says tests show no pollution from a massive illegal dump has reached the river which supplies much of Derry's drinking water.
Extra monitoring was put in place after the River Faughan overflowed its banks and inundated part of the site at Mobuoy.
It's believed up to a million tonnes of domestic waste is buried at the dump.
There were fears the flooding could wash pollutants back into the river.
But the NIEA said it was "confident nothing from the site is making its way into NI Water's water supply".
"This confidence is based on the evidence of the enhanced monitoring and to date the data is showing no cause for any concern," a spokesperson said.
The agency said there was also no evidence that the recent flooding had washed waste or contamination out of the site.
"We have received no reports nor have we observed any erosion of the vegetation or surface cover exposing the underlying waste."
It said it would remain vigilant and the additional sampling and analysis at the site and the river would continue in the weeks ahead.
Work is going on to repair the breach in the damaged flood bank.
A plan is being developed to deal with the waste at the Mobuoy site and is near to completion.
A number of options are being considered and it's likely that the final outcome will incorporate several of them.
The Faughan is an important salmon river with international protections.