Sinn Féin 'ready to restart formal Stormont talks'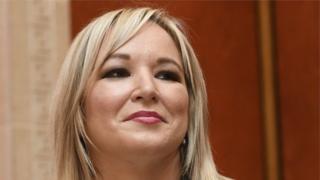 Sinn Féin's Stormont leader has said the party is ready to restart formal talks over the restoration of devolved government in Northern Ireland.
Michelle O'Neill said her party and the Democratic Unionist Party (DUP) had been engaged in "intensified dialogue" in the last week.
DUP leader Arlene Foster said the "intensive" talks had been deliberately kept away from the "spotlight".
Northern Ireland's devolved government collapsed in January.
Former First Minister Mrs Foster told Irish broadcaster RTÉ she expected "more structured talks" to take place as soon as next week.
Speaking at a Sinn Féin party meeting in County Meath, Mrs O'Neill said the party had also met all the party leaders and both governments in the last fortnight.
"We do believe progress is possible and are therefore ready to re-engage in formal negotiations together, and with the other parties and both governments, to try and reach agreement in a short, sharp, focused negotiation."
In a statement, the DUP said: "We spent a number of days involved in detailed engagement with them (Sinn Féin) to ascertain whether an agreement on the issues before us is possible.
"We intend to continue with a further series of bi-laterals with all of the other parties to determine whether agreement can be reached in the short time available."
The last round of power-sharing talks ended in stalemate in June.
Sinn Féin and the DUP, Northern Ireland's two biggest parties, have blamed each other for the lack of progress.
Their government broke down over a number of issues with the final straw for Sinn Féin being the DUP's handling of a botched green energy scheme.
On Monday, Northern Ireland Secretary James Brokenshire warned that the window to agree a deal over power-sharing was "closing rapidly".