Academic selection 'favours better-off parents'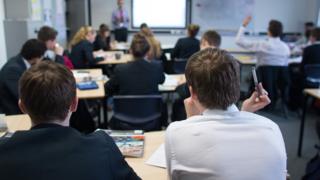 Academic selection favours parents who can pay for private tuition, according to a critical report.
Selection leads to grammar schools "creaming" high-achieving pupils from non-selective schools, adds the Executive Office report.
The report was commissioned by the then Office of the First and Deputy First Minister (OFMDFM) in 2012.
The three-year study was conducted by 10 experts from Queen's University and Stranmillis University College.
An initial draft of the report - Investigating Links in Achievement and Deprivation (Iliad) - was sent to The Executive Office (TEO) in 2015.
OFMDFM was the former name for Stormont's Executive Office, which has just published the report.
Deprived of role models?
The study examined the effects of deprivation on educational achievement and why pupils in some areas of high deprivation outperformed their peers in other deprived areas.
It found a number of factors had a negative impact on educational achievement.
Among the negative effects of academic selection it identifies are:
The "impact in terms of confidence levels and self-esteem of those pupils who fail or do not sit the transfer test"
"Grammar schools 'creaming' likely high achievers from non-selective schools - thus depriving pupils in the non-grammar sector of positive (peer) role models"
"The ways in which the current system of selection favours those parents with the means to pay for private tuition"
However, the report also acknowledges that grammar schools which serve disadvantaged areas do lead to high attainment for some pupils.
"The principals, teachers, parents and young people who attended grammar schools were supportive of academic selection," it says.
Catholic success?
The study - one of the most detailed of its kind ever carried out in the UK - also identifies a number of other factors that lead to poor educational achievement by some pupils.
These include:
Inadequate support from parents
Negative attitudes to education
Low expectations from some teachers and schools
Insufficient support for students with special educational needs (SEN)
The report states that the ongoing legacy of conflict, schools not being open to their local community and variable pre-school provision also have a negative impact on pupils' attainment.
Increasing levels of mental ill-health among young people creates additional pressures for schools, it adds.
By contrast, it also identifies a number of factors that help young people from relatively disadvantaged backgrounds do well in education.
These include:
Parental and community support
Good school leadership
Good relationships between pupils and teachers, and schools and the local community - including youth and community workers
The study looked closely at educational achievement in seven highly deprived council wards across Northern Ireland.
It found that the three predominantly Catholic wards in the study - Whiterock, The Diamond and Rosemount - had higher levels of attainment in terms of five GCSEs A*-C than the three predominantly Protestant Wards - Duncairn, Woodstock and Tullycarnet.
However, the report also warns against adopting any "quick-fix" solutions.
"Investing in and collaborating to identify sustainable longer-term solutions for the improvement of educational attainment, by involving all community members as partners and building on strengths is likely to be more fruitful," it says.