Cystic fibrosis: Girl 'screaming for help' over Orkambi drug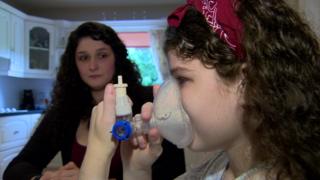 A Northern Ireland mother whose young daughter has cystic fibrosis has said she is "screaming and shouting for help" to access a life-changing drug but "no-one is listening".
The Orkambi drug helps to increase lung function but is deemed too expensive by the health advisory body NICE.
However, it is available for free to patients in the Republic of Ireland.
Ten-year-old Zona Armstrong's family are considering moving there so she can access the medication.
Cystic fibrosis is a life-shortening genetic condition causing mucus clogs and damage to patients' lungs, leaving them prone to infection.
Lower life expectancy
Ireland has the highest incidence rate of cystic fibrosis in the world, with one in 19 people estimated to carry the altered gene that causes it.
Northern Ireland's Department of Health has said it accepts the NICE guidance.
Zona's mother, Ayrin Armstrong, said she and other cystic fibrosis families were fighting to make Orkambi available in Northern Ireland.
Zona was diagnosed with the condition when she was a baby.
The 10 year old said she is aware that her life expectancy is lower and that is why she wants the drug as soon as possible.
While she was a fairly healthy child, her health has deteriorated in the last year.
She has had a number of lengthy admissions to the Royal Belfast Hospital for Sick Children and has battled pseudomonas and aspergillus infections.
Her lung function has dipped as low as 80% at times.
Every day for her begins with an hour-long session involving physiotherapy, nebulisers and taking up to 10 types of medication.
'Better chance'
Orkambi can be taken by children who are more than 12-years-old and Ayrin said it is important her daughter is considered for the drug soon.
"It's critical because as time goes on the deterioration process happens [with cystic fybrosis] and you can't fix it," she added.
"With Orkambi, it prevents it, giving her a better chance at a longer future."
She said her family is now seriously considering moving over the Irish border.
"If Zona keeps on the path she's going down, we will," she added.
"We discussed it when she was in hospital in May and if her lung function falls below 60% we will have no choice but to move."
'Boundless energy now'
Less than 50 miles away, fellow cystic fibrosis sufferer Jillian McNulty, who was instrumental in the Republic of Ireland's Orkambi campaign, said she has been given a "new lease of life" by the drug.
"Before Orkambi I had a very poor quality of life," she said.
"I had little energy and spent up to nine months of the year in hospital - now I have boundless energy."
She acknowledged that the medication is expensive at more than £100,000 for each patient, but she argues that no-one is entitled to put a price on someone else's life.
"When you take into account the cost of hospitalisation that people with cystic fibrosis regularly have for up to four months of the year, it all adds up.
"That costs a lot more than Orkambi does."
Jillian, who is 41, said having the support of politicians was essential and the campaign would have gone "nowhere" without them.
"Momentum built up - the opposition put so much pressure on the government they were basically shamed into giving us Orkambi."
'Fewer hospital days'
In a statement, Northern Ireland's Department of Health said that NICE "does not recommend the use of Orkambi for treating cystic fibrosis".
"Orkambi would not therefore be offered as a routinely commissioned drug for cystic fibrosis," it added.
It added that the Health and Social Care Board considers funding requests for treatments not routinely commissioned in Northern Ireland in cases in which "exceptional clinical circumstances can be established".
There are 455 people living with cystic fibrosis in Northern Ireland and they are treated at either the Adult Regional Centre at Belfast City Hospital or the Royal Belfast Hospital for Sick Children.
No-one from the Belfast Health Trust was available for interview.
However, Prof Edward McKone, a consultant respiratory physician at St Vincent's University Hospital in Dublin, said that Orkambi is an important therapy.
"Clinical trials have shown that if you take Orkambi this results in clinical benefits, including improved lung function and also fewer days in hospital", he added.
'It's not fair'
All of Northern Ireland's main political parties have said they back access to the drug.
But the political impasse at Stormont is deeply frustrating for the Armstrong family.
There was no functioning Northern Ireland Assembly or executive at Stormont to listen when the family joined with others across England, Scotland and Wales in bringing their campaigns to Westminster and the devolved assemblies in June.
"We have nobody there fighting our corner, but they have it in them to help Zona and others here," Ayrin said.
While Zona has adapted well to life with cystic fibrosis, she said she would like a chance at being on the drug.
"It might be really helpful - it could do so much for me - like on sports day I could run faster and cough less," she added.
"If I lived in the south I could get it - it's not really fair that because I live in the north I can't."